Best Caribbean Cruise Ports You Should Visit
Here is a compilation of recommendations of the best Caribbean cruise ports covering all cruising regions in the Caribbean. Whether you are looking for white sandy beaches, crystal clear waters, amazing rums, or the Caribbean sound of steel drums, there is an island for you!
So, if you want to know how to best spend your day in port or you are just looking for some Caribbean travel inspiration, here are recommendations of the best cruise ports in the Caribbean.
Did You Know?
There are more than 7,000 islands in the Caribbean.
Cuba is larger than all the other Caribbean Islands combined.
Only around 2% of the islands in the Caribbean are actually inhabited by people.
---
"Nowhere else is it possible to experience, in such a small area, so many different cultures and social conditions, such diverse vegetation, and such varied landscape as in the Caribbean."

– Leonard Adkins –
---
---
Best Time to Visit the Caribbean
The Caribbean dry season, which is also the high season, runs from the middle of December through to the middle of April.
The wet or rainy season runs from the middle of April through to the middle of December.
Hurricane season runs from the beginning of June through to the end of November. Cruising during this time period should be carefully considered due to the possibility of changes to your itinerary due to the unpredictability of these tropical storms.
In the months of August through to the end of November is when cruise lines offer cheap cruise deals.
---
Best Caribbean Cruise Ports – Northern Caribbean
Key West – Florida
As the southernmost point of the United States, the island of Key West is famous for its colourful, casual, eclectic, and artsy vibe. Walking the streets of Key West, lined with unique art galleries, seafood eateries, and the favourite bars of well-known literary giants, is an experience in itself. But, there are many other things to do in Key West during your port of call.
The leisurely Conch Train Tour winds through the streets of Key West while the tour guide teaches you the island's history, acquaints you with the city streets' layout, and provides you with ideas for the remainder of your day.
Stroll down eclectic Duval Street toward the Southernmost Point of the United States for a quintessential Key West picture. Then continue on to The Ernest Hemingway Home and Museum, and check out the six-toed cats.
There is so much to choose from for lunch on Duval Street, but be sure to add conch fritters and conch chowder to your order, and Key Lime Pie for dessert.
If you are the watering hole type, the most iconic Key West Bar is Sloppy Joes, a favourite of Ernest Hemingway and his besties. Be aware that Sloppy Joes gets a bit rowdy as the day progresses and may not be family-friendly.
Into rum tasting? Then don't miss a rum tasting tour of Papa's Pilar Rum Distillery, housed in an old tobacco warehouse at the corner of Greene and Simonton Street in Key West. Try them all, the blonde, the dark, and then mix them — smooth as butter and sweet like a birthday cake pop.

Directly next door to Papa's is Peppers of Key West, a bar dedicated to tasting any hot sauce you wish. This place is a hot sauce lover's dream.

If water sports are more your speed, book a snorkel or scuba boat for touring the coral reefs, hire a fishing boat captain, or rent jet skis, a kayak, or stand-up paddleboard.
Finish your day sipping on a tropical umbrella drink and watching the most beautiful sunset at Mallory Square. Arrive early to enjoy the show of magicians, jugglers, unicyclers, and musicians.

Top Tips: It is hot and sunny, so hydrate and wear sunscreen. Avoid visiting during Spring Break (late March or early April) as Key West is a popular destination for college student's shenanigans. And relax; things move a little slower in Key West. The vibe is casual and chill, so enjoy.
---
Havana – Cuba
Recommended by Sarah at Cuba's Best
Havana is a spectacular port of call in the Caribbean. There's so much to do in Cuba's capital that you'll be spoiled for choice.
The best way to see the city is to take a tour in one of Cuba's iconic classic cars. Spoil yourself and go for a convertible. Driving around Havana in a convertible car, that's likely older than you are, is quite the BEST thing to do in Cuba. You'll get to see all the sights of the capital – and as all the car tours come with a driver, you'll be free to enjoy a great Cuban Cocktail on your trip!
There are so many sights to see – from the Capitol Building to the Plaza de la Revolucion – famous for the monument to the father of Cuban Independence, Jose Marti and the murals of Che Guevara and Camil Cienfuegos. The famous Hotel Nacional is one of the best places to get a mojito and you can then enjoy the cruise back along the stunning Malecon back to the old town.
Old Havana has the Museum of the Revolution, or perhaps take a walking tour to enjoy the city sights. Don't miss Hemingway's haunts the El Floridita bar and La Bodeguita del Medio.
Top Tip: Draquecitos in Old Havana is a great spot for appetisers or something more substantial to eat.
---
Bermuda
Bermuda is a tiny island located in the middle of the Atlantic Ocean. It's known for its dream-like beaches and incredible underwater world. The island is small and relatively wealthy due to its relaxed tax laws. Giant cruise ships stop here to let tourists visit this incredible place.
With a population of only around 70,000, the island is very small, but there are still lots of things to do.
Cruise ships dock in the western area of the island which is the Royal Naval Dockyard. You'll find plenty of little restaurants and even some beaches in this area, so if you don't have a lot of time in the island this is a great place to start. This is also the place of the National Museum of Bermuda and the Bermuda Craft Market.
If you want to explore more of the island, you should look into renting a scooter which is one of the best ways to explore the island. Hamilton is Bermuda's capital and lies in the centre of the island. The city (or town) is known for its beautiful pastel houses and should be at the top of your list if you're visiting Bermuda.
Bermuda is also popular among golfing, sailing and water sports enthusiasts. Some of the best beaches include Horsehoe Bay, Elbow Beach and Jobson's Cove.
Top Tip: Bermuda is expensive (really expensive) so you might want to reassess whether you want to eat out at a restaurant or head to a bar for a drink.
---
Best Caribbean Cruise Ports – Southern Caribbean
Curacao – Netherlands Antilles
Curacao's cruise port, Willemstad, is found at the southern end of the island and is also the capital city of Curacao. The city is an easy 10 minute walk from the cruise terminal and possesses a certain charm all of its own.
There are many attractions in Curacao but one of the best things to do is simply wander through the town and admire the unique colonial architecture. Easy to walk to attractions include the floating Queens Emma Bridge, from which you can take the iconic photo of the colourful Dutch colonial buildings along the waterfront, and Fort Amsterdam. Mikvé Israel-Emanuel Synagogue and Saint Ana Catholic Church is worth a visit, as is the Kura Hulanda Museum and the Maritime Museum.
There are also other attractions outside of Willemstad that are worth visiting such as The Aquarium and Hato Caves. Curacao has 28 beautiful beaches, however, there are no beaches within walking distance of the cruise terminal. You will need to take a taxi for a beach visit, and some of the most popular beaches include Playa PortoMari and Mambo beaches.
Like most Caribbean islands, it is also a shoppers paradise and with lots of amazing places to try the local cuisine.
Top Tip: If you are looking for the perfect beach day with snorkelling opportunities, Blue Bay Beach Resort is a resort area where you can combine lying on the beach and sipping cocktails, with exploring the coral reefs with the chance of seeing a turtle. You can negotiate a taxi for approximately USD$25 each way.
---
Bonaire – Netherlands Antilles
Bonaire is located just off the coast of Venezuela and is part of the Netherlands. Cruise ships will dock at the port of Kralendijk and all cruise terminals are within walking distance of all main attractions in Kralendijk. This makes walking the best way to explore this beautiful, small and quaint Caribbean capital city.
Bonaire is known for its natural wonders and laid-back ambiance. It also has a stellar reputation as one of the top snorkelling and scuba diving sites in the world. For those interested in exploring its underwater beauty, a trip to Klein Bonaire is an absolute must!
For those not interested in diving or snorkelling, there are many beaches and water sports to choose from including 100 Steps Beach or a day pass option at the Spice Beach Club. You may also choose to visit the salt flats, go flamingo spotting, visit the Donkey Sanctuary or get your cultural fix at Ricon, the oldest settlement on Bonaire.
If you prefer to stay in Kralendijk, you will find some unique boutiques on Kaya Grandi, the main shopping street. There is also a great choice of restaurants serving local, fresh food with a gourmet touch.
Top Tip: After exploring the city or at the end of your dive, make your way to Karels Beach Bar for a drink and enjoy the amazing views from this bar which is set in an ideal location.
---
Puerto Plata – Dominican Republic
Recommended by Chris at Punta Cana Travel Blog
Puerto Plata is one of the best cruise ports of call in the Caribbean, and especially in the Dominican Republic thanks to its diversity of possible tours and adventures. It doesn't matter if you are looking for a romantic day out, an adventurous tour, some cultural immersion in the Dominican Republic or just a day at the beach. Puerto Plata has you covered.
When visiting Puerto Plata, the counterpart of famous Punta Cana, you have plenty of options to explore the area:
– If you are interested in some history and culture, you can head to the city of Puerto Plata. Here you can visit the colonial old town, the rum distillery, the Amber Museum and have a ride with the famous cable car to Puerto Plata's mountain Isabel de Torres.
– If you are into adventures, you can go waterfall chasing, book a canyoning tour or enjoy a thrilling zip line ride.
– If you are a beach bum, the beaches of Sosua are perfect for swimming, snorkelling and relaxing.
– If you love to go on mini road trips, you can rent a car in Puerto Plata and explore the "Ruta Panoramica" and the impressive North Coast Mountain Range.
When visiting Puerto Plata, you must try some local authentic food. The fish eateries at Sosuas' beaches or the local restaurants along the oceanfront promenade (which is called "Malecon") in Puerto Plata are your best bets.
Top Tip: Puerto Plata's cable car "Teleférico" offers an amazing view of the Dominican Republic's North Coast. It is actually a must-visit. However, if you see from the city that the mountain is covered in clouds, don't go up as you won't see anything.
---
Port Zante – St Kitts
Recommended by Steph and Lewis from Book It Let's Go!
Port Zante in St Kitts is the central hub of activity when arriving by cruise ship. The port area is a shopping haven featuring high end jewellery shops, clothing shops and lots of tourist souvenirs. While in the port, don't miss the St Kitts chocolate factory where you can buy delicious handmade chocolate treats and bespoke chocolate pieces.
From Port Zante, why not take a walking tour from St Kitts cruise port around Basseterre, the capital of St Kitts, and see the historical sites around town. Just before leaving the port and venturing into Basseterre, stop at Mama Moore's Cabin and grab a homemade johnny cake, a local deep-fried delicacy, filled with either cheese, chicken, fish or vegetables, and a refreshing glass of Mama Moore's homemade lemonade.
There are many wonderful things to see on a cruise to St Kitts including the Brimstone Hill Fortress. This UNESCO world heritage site was built in the 1800's and it is one of the best-preserved fortresses of its time with cannons, barracks and the main citadel still intact.
St Kitts also has plenty of wonderful beaches to relax on with beautiful views over to the sister island Nevis, and plenty of exotic drinks to sample at the rustic beach bars. Most cruise visitors say that one day in St Kitts just isn't enough.
Top Tip: Near the pier, you will see colourful red and yellow fishing boats with their nets spread out drying in the sun. This is the perfect place to get some great photos.
---
Martinique – French Antilles
Recommended by Elisa from France Bucket List
Martinique is one of the best cruise ports in the Caribbean. This island is part of the French Antilles, French overseas departments, and as such, French is the official language, and the euro is the currency. French and EU citizens only need an ID card to visit Martinique.
Fort-de-France is the largest cruise port in Martinique and a popular port stop for US cruises. It is located on the island's western coast, not far from Martinique's Aime Cesaire International Airport.
Martinique is a great destination because it combines French life with an exotic touch typical of the Caribbean islands. French wine and cheese are available everywhere, but most likely, you will want to replace them with the island's exotic fruits and its unbeatable rum.
For your stop in Martinique, we recommend going beyond Fort-de-France, ideally with a car. Road tripping is the best way to explore Martinique, plus it allows you to reach the most secluded corners of the island.
Martinique is a paradise for nature-lovers, with beaches of all kinds, great hikes, and numerous waterfalls. Being an island, it is also an excellent place for snorkelling, scuba diving, and boat tours of all kinds.
Top Tip: A visit to one of the island's rum distilleries is one of Martinique's main highlights!
---
Aruba – Netherlands Antilles
Recommended by Rai at A Rai of Light
Aruba, a popular cruise port destination, is well known for its landscapes, beaches, and interesting architecture. Its location in the southern Caribbean Sea means consistently fine weather and sunshine throughout the year.
A visit to one of the many beautiful beaches is a must during a cruise stop. The best among them being Palm Beach, Eagle Beach, and Aruba Flamingo Beach. Fortunately, none of these beaches are located far from the Ports Authority dock.
Apart from beach hopping, the island hosts an abundance of things to do and numerous activities are on offer at any time of the year. Highlights include exploring the streets of Oranjestad, snorkelling at Baby Beach, a visit to the Butterfly Farm, and de Palm Island. If this is not enough, there is also the option to explore the coastal areas.
It is easy to get around as public transport is cheap and plentiful. A visit to this Caribbean island is bound to include beautiful landscapes, good food, friendly locals, and some memorable experiences.
Top Tip: A visit to Arikok National Park and a swim in its natural pools comes highly recommended and should not be missed.
---
Best Caribbean Cruise Ports – Western Caribbean
George Town – Grand Cayman Island
George Town is the capital city of Grand Cayman and the port which all cruise ships visit. All cruise terminals are located within walking distance from most of downtown's highlights which makes it the perfect stop if you prefer to explore the town at your leisure.
Most attractions are close to Harbor Drive and the two blocks inland including Heroes Square, the ruins of Fort George, and Elmslie Memorial United Church (a typical quaint Caribbean church). Other places to visit as you walk through town are Shipwreck Coins Antiques, the Cayman Islands National Museum and the Cayman Craft Market.
If shopping is your thing, then head to Harbor Drive, Cardinal Avenue, Bayshore Mall and Kirk Freeport for a mix of duty free shopping and souvenirs.
There are many shore excursions offered on Grand Cayman, but undoubtedly the most popular attraction is Stingray City, where you will have the opportunity to swim with these magnificent, gentle creatures. Scuba diving and snorkelling are also popular attractions as is a visit to The Cayman Turtle Farm, Queen Elizabeth II Botanic Park, and Dolphin Discovery.
Top Tip: If you are looking for somewhere special to have lunch, take a taxi to the Grand Old House (only 2 miles (2.8km) south of George Town). Established in 1908, this former plantation house has been transformed into a beautiful restaurant featuring historical charm, colonial features and a panoramic waterfront terrace.
---
Cozumel – Mexico
Recommended by Shelley at Travel Mexico Solo
Cozumel Island is one of the best Mexico cruise ports, as it's suited to all types of travellers. For families with kids, there's beachfront waterparks; for history buffs, there's the San Gervasio Mayan Ruins, and for nature lovers, there's white sand beaches and a whole underwater world.
Located just off-shore, you have the Mesoamerican Barrier Reef System — the second largest reef system after the Great Barrier Reef. While snorkelling or diving, expect to see abundant marine life at all the best reefs in Cozumel, like Palancar, El Cielo and Colombia.
For those who'd rather spend time on land, take the 25-minute ferry over to Playa del Carmen, Mexico, one of the top travel destinations in the Yucatan Peninsula. Since the ferry ride is quick, visiting Playa del Carmen is another option for things to do in Cozumel when at port.
If you're staying in Cozumel, know the island is really two islands in one. On the western side, where the cruise ship docks, there are chain restaurants and tourist shops. However, on the other side of the island, there's just beautiful beaches and no-frills restaurant / bars like Freedom in Paradise, El Pescador and Coconuts.
Before getting back on the ship, stop at Cerveceria Punta Sur for locally-made craft beer and pizza at Cozumel's only brewery. For a more upscale dining experience, Buccanos At Night has beautiful Caribbean Sea views, as well as fresh sushi and seafood.
Top Tip: For those who want to truly get away from it all, rent a Jeep or moped when you get off the ship and drive 25-30 minutes to the east side of the island. If you want to see Mayan ruins, you'll actually pass the San Gervasio site on the way.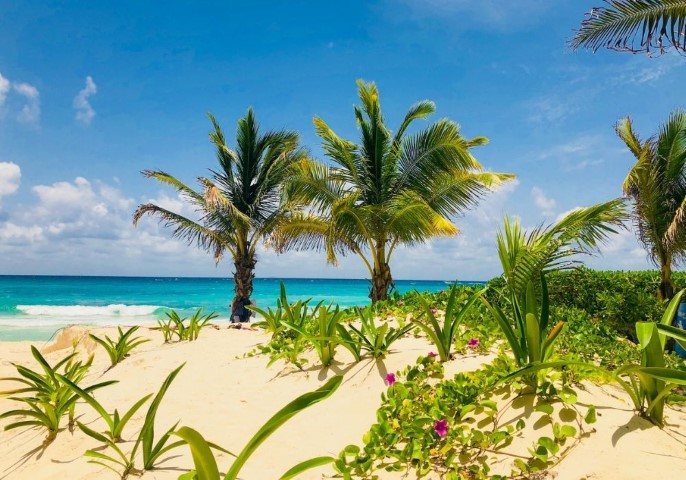 ---
Placencia – Belize
Recommended by Rosanna at Rosanna etc
Placencia is a gorgeous little town on the tip of a peninsula off the coast of Belize. The town is small and picturesque, full of colourful shops, bars and restaurants, and the locals are incredibly warm and welcoming.
Placencia offers the best of both worlds as it is on the coast and has white sandy beaches, but just inland, there are the wonders of the jungle. There are so many things to see and do in Placencia. Go on a tour of Monkey River and listen to Howler Monkeys high up in the canopy, or you could also visit Cockscombe Basin Wildlife Sanctuary and try to spot an elusive Jaguar. There are also several Mayan archaeological sites nearby to explore which make for an ideal day trip.
Belizean food is a mixture of all the different nationalities and cultures found in the country with Caribbean, Mexican and Mayan influences. Barefoot Bar is right on the beach in Placencia and offers the opportunity of a dip in the Caribbean between drinks, as well as delicious food like fish tacos or grilled shrimp. Tutti Frutti is a quaint ice cream parlour that everyone goes to when they are looking for something sweet and refreshing.
Top Tip: If you are visiting between June and February, Caribbean Spiny Lobster will be in season and on menus everywhere. Enjoy them fresh out of the sea and onto the grill, with a side of plantain chips or rice and beans.
---
Montego Bay – Jamaica
Recommended by Daniel at Layer Culture
When searching for the best Caribbean cruise ports of call, Montego Bay in Jamaica should be somewhere near the top of your list. Not only can the port accommodate more than one ship, but it serves as a gateway to be able to see some of the best sights in Montego Bay.
Within a 10 minute drive, you can be strolling down the hip strip which is home to some of Montego Bay's most exclusive shops as well as the famous Doctor's Cave Beach. If you're in the mood for drinks, you can pop into Margaritaville for a tasty rum punch after sunbathing on the beach. While you are at Margaritaville, make sure you take advantage of the floats and gigantic slides that plunge you into the beautiful turquoise ocean.
If you want to get acquainted with some traditional Jamaican food, you'll need to head to downtown Montego Bay which is a 10-minute walk from the hip strip.
All in all Montego Bay makes an excellent cruise port stop for anyone who wants to connect with the unique island vibe that Jamaica has to offer its visitors.
Top Tip: Locate the hidden market named Fantasy Craft Market, found across from Margaritaville, where you can purchase souvenirs such as wood sculptures and other handmade crafts that are unique to the island of Jamaica.
---
Ochos Rios – Jamaica
Recommended by Sally at Our 3 Kids v The World
A popular Caribbean cruise port is Ochos Rios, located on the north coast of Jamaica. Originally a fishing village, it has been transformed into a coastal beach resort with the bay surrounded by resort hotels. Many of the surrounding hotels have restaurants with private beaches where you can spend the duration of your port visit for a small cost.
As the saying goes, when in Rome…. well in Jamaica you must experience a bob sled. The Mystic Mountain Jamaica Adventure Park is the perfect place to tick that off your bucket list, in a bob sled painted in the Jamaican flag colours. It's one of many activities and you could easily fill in your port visit with activities including zip lining, sky explorer chair lift, ATV tour, rock climbing or a rope course. There are plenty of activities to keep the whole family entertained for the day. Check out the tree house restaurant at the top of the mountain next to the bob sled entrance. There is also a great souvenir shop to remember your visit.
Being a port town, expect to spend a bit of money. The activities are great, but far from economical. However, it will be an experience you won't forget! If you are short of funds, you can easily spend the day on the beach. I could think of worse ways to spend a day, that's for sure. The bay is gorgeous and you're still in Jamaica Man!
Top Tip: A popular day tour offered by the cruise ships is Dunns River Falls. A 600 metre waterfall that opens on to Ochos Rios beach. The experience has groups of tourists entering the falls on the beach and climbing to the top with a guide and videographer recording the crazy antics. Sounds a bit out there… it was! Make sure your travel insurance is fully paid!
---
Panama City – Panama
Recommended by Pamela at The Directionally Challenged Traveler
One of the best Caribbean cruise ports of call is Panama City due to its central location, and being home to one of the greatest engineering feats in the world.
Panama City is smaller than other major cities, but there are plenty of things to do. Most cruises dock at port Fuerte Amador which have a variety of transportation options for visitors. This makes it easy to get to downtown Panama City. Be sure to either take a tour of the Panama Canal or visit the Panama Canal Museum in the city.
One of the best things to do in Panama City is visit Casco Viejo, the ruins of the old city. From here you can experience the tumultuous history of the city and see the current skyline at the same time. Grab a bite to eat and a traditional drink at the Pedro Mandinga Rum Bar. Coffee lovers can indulge in Geisha coffee, the most expensive coffee in the world!
If you're tired of visiting cities, the Gamboa Rainforest is on the edge of the city. You can take a Chagres River Boat Tour that can bring you close to the nature and wildlife including sloths and monkeys. If you prefer to be in the air, there are aerial tram tours available for a bird's eye view!
No matter what you decide to do in Panama City, you'll be glad you stopped at this port of call.
Top Tip: Plaza Francia is the perfect place to pick to up traditional and handmade souvenirs, like a traditional Mola (handmade textile that forms part of the traditional women's clothing of the indigenous Guna people from Panama).
---
Best Caribbean Cruise Ports – Eastern Caribbean
St John's – Antigua
Recommended by Sarah at A Social Nomad
St John's is the capital of the island of Antigua, and the only cruise port on the island. The cruise port is in downtown St John's, which makes it easy to visit virtually all parts of the island either as part of a tour or independently.
There's a laidback vibe in St John's, and it's possible to take a walking tour around the town, or head out to some of the sights of the island, none of which are far away. The top sight near St John's is the iconic Shirley Heights, about 40 minutes' drive from St John's, which gives great views over the sailing area of Antigua.
Possibly the best reason to come to St John's and Antigua though, are the beaches. There are 365 beaches on the island, and there's bound to be one that's perfect for everyone.
You'll want to visit Hemingway's Café close to the cruise port – this is an excellent Caribbean café that serves genuinely local food. Be sure to ask if Antiguan Black Pineapple is in season and wash it down with an Antiguan Rum Punch or a Wadadli beer. This extra-sweet pineapple is unique to the island and well worth trying.
Top Tip: Visit the food market (very close to the port) and check out the fruit selection as it is beyond compare!
---
San Juan – Puerto Rico
Recommended by Melissa at Navigation Junkie
A cruise stop in Puerto Rico will take you right into the heart of Old San Juan, the oldest settlement in Puerto Rico that is filled with colourful streets, historical sites, local restaurants, and quaint gift shops. Once you pull into the docks in San Juan, you will find many boutique shops and restaurants right near the dock. You will also be within walking distance of the streets of Old San Juan, an area you won't want to miss!
You can either choose to talk a walking tour of Old San Juan's top historic sites including the city walls, two historic forts-El Morro Castle and San Cristobal Fort, and Paseo de la Princesa, or you can see them on a bus tour. A visit to Pigeon Park, where you can watch as hundreds of pigeons flock around, is a must if you are an animal lover.
If you are looking to get outside of the main port area and Old San Juan, you can take a day tour to the El Yunque National Rainforest. Looking to hit the water? Then visit the nearby beaches of Condado and Isla Verde, just a 15-minute taxi ride from the pier. If you are a foodie, you can enjoy an Old City culinary and wine tour as you taste your way through Old San Juan.
For lunch or dinner, stop at El Jibarito in Old San Juan. This local restaurant features many regional and local Puerto Rican dishes. Whatever menu item you choose, be sure that it includes the classic Puerto Rican dish of mofongo, mashed plantains served with or without (for vegetarians) a meat dish.
Top Tip: When visiting Old San Juan, unless you are planning on going outside of the main old city area, your best option may be to explore on your own because of the small size of the area. It will give you more freedom and flexibility and you will likely be able to see most or all of the highlights.
---
Antigua and Barbuda
Recommended by Isabella at Boundless Roads
I may be a little biased as Antigua has been my home for about 2 years, but the island is indeed one of the prettiest Caribbean Islands. Visitors coming from cruises will get to Heritage Quay first. This colourful open-air commercial centre is located right by the harbor, for a short and pleasant walk through souvenirs shops, an ice-cream hut, art galleries, and clothing boutiques among others.
You will then find the busy streets of St Johns, Antigua and Barbuda capital city, which is actually a small town, the only one in Antigua. If you decide to hang out there for all your free time, you can browse through the local shops and check out the old church and the nearby small museum of the island history. You can also enjoy a nice lunch at the iconic Hemingway Cafe' for a taste of authentic Caribbean food. Do not miss the traditional pumpkin soup and crab cakes.
However, you cannot say that you have been to Antigua if you haven't visited one of the spectacular Antigua beaches. The closest one is Deep Bay, but Antigua is so tiny that you have time to venture out and explore the entire island and still make it back to the boat before it leaves the port.
Renting a car is the best way to get around and enjoy the island in freedom, but you can also choose among the multiple tours available. You may also hire a local taxi for a few hours. Ask them to take you to Darkwood beach first and then to the English Harbour. Once there take a walk around the Nelson Dockyard, with its pretty historical vibes. Then walk to the nearby hidden Pigeon Beach and have lunch at the exquisite Catherine's Cafe to complete your day in Antigua. The only problem you may have is that you will never want to leave.
Top Tip: Pay attention to the currency as something that regularly catches tourists out is the fact that Antigua uses two types of dollar – US dollar and East Caribbean dollars.
---
In Summary – The Best Caribbean Cruise Ports
With more than 700 idyllic islands dotting the Caribbean Sea, there is an island to suit every taste. Some islands are lush with rainforests and mountain trails, while others have desert climates and coral beaches. The one thing for sure is, you'll find white sands and turquoise water throughout all regions of the Caribbean.
Selecting a Caribbean cruise can be challenging but our list above of the best Caribbean cruise ports should help you with this decision. Whichever cruise you choose, you are sure to have the perfect holiday with a great mix of relaxation, beautiful scenery, nature, culture and a taste of local cuisines and rum.
Are you planning a Caribbean cruise? Have you visited one of the cruise ports listed above, or have we missed a cruise port you love to visit? Post your tips and questions below.
---
TRIP PLANNERS FOR THE CARIBBEAN: RELATED BLOG POSTS
Want more info to help you plan your Caribbean cruise? Check out all the articles we've written on travel in the Caribbean below and continue planning your trip.
10 GREAT BOOKS ABOUT THE CARIBBEAN TO READ BEFORE YOUR VACATION
---