Essential Travel Guide to Hat Kata – Phuket, Thailand
Hat Kata in Phuket Thailand will provide you with the holiday of your dreams.
The list of things to see and do are endless, or you can just completely relax on the beach in the morning and spend your afternoons pampering yourself in a day spa.
"One of the dreams on my wish list is to spend more time in Thailand."

– Kevin Kwan –
---
Disclosure: This post contains affiliate links. This means that if you click on our affiliates / advertisers links and make a purchase, we may receive a small commission, but at no extra cost to you. AND, many times, you will receive an offer. Win/win! The products and services we write about and mention are the ones we love. We only recommend items that we feel are of good quality and would be helpful to our readers. While we pay for our travels out of our own pockets, these small commissions do assist in keeping us on the road. Thank you!
---
---
Hat Kata in Phuket
Hat Kata is located just twenty kilometres from Phuket town in the southern part of Phuket Island. The area is a little more upmarket than its neighbouring town of Karon, and is home to the world-renowned Club Med Resort.
Its beautiful beaches, surrounded by green hills, overlooking Ko Pu island just off-shore, are a major drawcard and as such, it appeals to travellers of all kinds. Hat Kata is one the few tourist areas that still retains a village feel, especially towards the northern and southern ends.
In the centre of Kata you will find many shops aimed at tourists, tailors, spas and restaurants. In general, the restaurants are reasonably priced, although be prepared to pay a little more than Karon or Patong.
---
Map of Hat Kata
How to Get to Hat Kata
When you fly into Phuket, you will arrive in the Phuket International Airport (HKT) which is approximately 47 kilometres from Hat Kata town centre.
From the airport, there are a number of transportation options available to you:
Metred Taxi
quickest option, approximately 45 minutes
the taxi-meter counter is just outside the terminal
cost 1100–1400 baht (AUD$45-AUD$60 / USD$34–USD$45)
make sure the meter is turned on when leaving the airport
N.B. An airport surcharge of 100 baht will be added to the meter
---
Shared Minibus
best value for money
could take up to 4 hours depending on if you have to wait for the van to fill up or if you are the last hotel drop-off
cost 200 baht (AUD$8 / USD$6.40)
---
Phuket Smart Bus
approximately 2 hours
cost 170 baht (AUD$7 / USD$5.50)
drop off is behind Club Med Resort
N.B. you must buy a refillable Smart Card on board to pay the fare
---
How to Get Around Hat Kata
Tuk-Tuk (Phuket Style)
Tuk-tuks in Phuket are a little different from other areas in Thailand such as Bangkok or Chiang Mai. The ones in Phuket have 4 wheels with access from the back.
Top Tip: Official prices are displayed on boards near main beaches, but not all will honour these prices so check before you get in.
---
Songthaew
Songthaew (converted pickup trucks with two benches in the back) is Thailand's term for open-air buses. All buses have their destination written in English on the outside. There are no designated bus stops in Phuket so simply wave one down on the street and tell the driver where you want to go.
These buses are the cheapest way to get from all the main tourist beaches into Phuket Town, but Songthaews do not go from one beach to another. The cost of a trip will 30-50 baht during the day time (7am – 6pm).
---
Phuket Smart Bus
The Phuket Smart Bus is a cheap and convenient way to travel from beach area to beach area in Phuket. The bonus is they are air-conditioned.
Top Tip: You must buy a refillable Smart Card (Rabbit Card) on board to pay the fare.
---
Motorbike Taxi
For solo travellers, motorbike taxis can be a great way to travel around certain parts of Phuket i.e. Patong, Kata, Karon, Phuket Town. As with tuk-tuks you should always agree on the price before taking a ride.
Groups of motorbike taxis usually congregate on strategic corners in the tourist areas; you'll recognise them from their bright coloured vests.
Top Tip: If a motorbike taxi driver doesn't offer a helmet, find another one that does, no matter how short a journey you'll be taking.
---
Taxi
Air-conditioned taxis can be readily found in the main tourist areas of Phuket, however, metred taxis are a little more difficult to find. Fares start from 50 baht for the first 2 km and 8 baht per additional km. For longer distances, your taxi may charge a flat rate.
Top Tip: Ask your driver to use the meter. If a taxi driver refuses to turn the meter on, ask for another driver. If you are met with several refusals, negotiate a rate for your trip. While drivers should use the meter, they often flat out refuse.
---
Grab
Mobile ride-sharing app, Grab is probably the most convenient way to travel around Phuket. N.B. Grab is not allowed to pick-up form the Phuket Airport
Top Tip: Grab is Southeast Asia's own version of Uber! If you are planning a long vacation in Southeast Asia, download this app onto your mobile phone as it will be extremely useful for your travelling experience in Thailand, Vietnam, Malaysia, Singapore, Indonesia and The Philippines.
---
Self- Drive – Motorbike (Scooter)
If you know how to ride a small and speedy motorbike (scooter), this could be the best and cheapest way to get around the island of Phuket.
Renting a motorbike will cost you approximately 150 to 250 baht per day (24 hours) for a 125cc motorbike with automatic transmission capable of carrying two people, plus 2 helmets.
A valid Thai or international motorbike license is a legal requirement when riding a motorbike in Phuket. Police frequently fine drivers (500 baht) without a valid driving license and for not wearing a helmet. Normally there will be a small payment counter whenever a roadblock is conducted and a receipt (fine ticket) will be given upon payment. Remember to keep the ticket and show it in case you encounter another roadblock on the same day (you won't be punished twice for the same offence).
Top Tip: Most rental agencies will ask for your passport as security against the motorbike. If you aren't comfortable with this (we aren't), make a photocopy of your passport and give that to them instead.
---
Best Time to Visit Phuket
Kata is on Phuket Island which has a tropical climate with average temperatures of 22⁰C – 34⁰C throughout the year. The climate is dominated by three seasons: the hot season, the rainy season, and the cool season. Although it never gets too cool, the hot season can be extremely hot and uncomfortable.
November to February: Most travellers consider November to February the best time to visit Phuket as the days are mostly sunny and dry. This is ideal if you are planning to spend lots of time on the beach.
April to May: Between April and May, temperatures reach the highest of the year and can mean uncomfortably hot levels of heat.
May to October: The monsoon or wet season runs from May to October, when the south-west monsoon brings higher levels of rainfall and humidity. During these low season months, you can find the best-value offers for accommodation, cheaper flights and far fewer crowds.
We have travelled to Phuket numerous times in June and July and while afternoon showers can be expected, we have always been lucky enough to experience beautiful, sunny days.
---
Cheapest Time to Visit Phuket
---
Ideal Time to Visit Phuket
---
Is Hat Kata Safe?
Hat Kata area is a safe destination and suitable for couples and family holidays. However, the one area that is a safety concern is traffic rules and conditions. If you do decide to rent a motorbike, be very careful as Thailand has one of the worst road safety records in the world.
---
We highly recommend purchasing travel insurance when travelling overseas. Insurance will cover important things like emergency medical hospitalisation / evacuation, baggage delays and trip cancellation. We recommend World Nomads for quality travel insurance you can trust, at affordable rates.
BOOK: Buy Travel Insurance Here
---
What Does the Hat Kata Area Have to Offer?
The options are plentiful for things to do in Hat Kata Phuket. Beautiful beaches, fun bars and nice restaurants, and fantastic shopping with wonderful bargains to be found.
---
Best Beaches in Hat Kata Phuket
Hat Kata is split in two by a rocky headland with Hat Kata Yai lying on the north side, and Hat Kata Noi lying to the south. The road which links the two beaches has been traditionally known as Phuket's millionaire row.
Kata beaches are safe for swimming and do not have any drop offs making it safe for children and non-swimmers. Always take notice of the flags that fly, they will let you know if it is not safe to swim. There is a coral reef on the right hand side of the beach that goes out to Ko Pu (Crab Island) and is good for snorkelling.
---
1. Hat Kata Yai (Big Kata)
This is the main beach in Kata and offers 1.5 kilometres of beautiful soft white sand, and clear aqua waters. Kata Yai is also a popular spot for surfing enthusiasts.
---
2. Hat Kata Noi (Small Kata)
South of Hat Kata Yai, Kata Noi is a more private, sheltered and compact beach. This small bay is considered by many to be one of the best beaches on the island. It is characterised by clear water with rocky headlands on both which make it an ideal place for swimming and snorkelling. Kata Noi Beach is also a popular spot for surfers in the off season (May to October).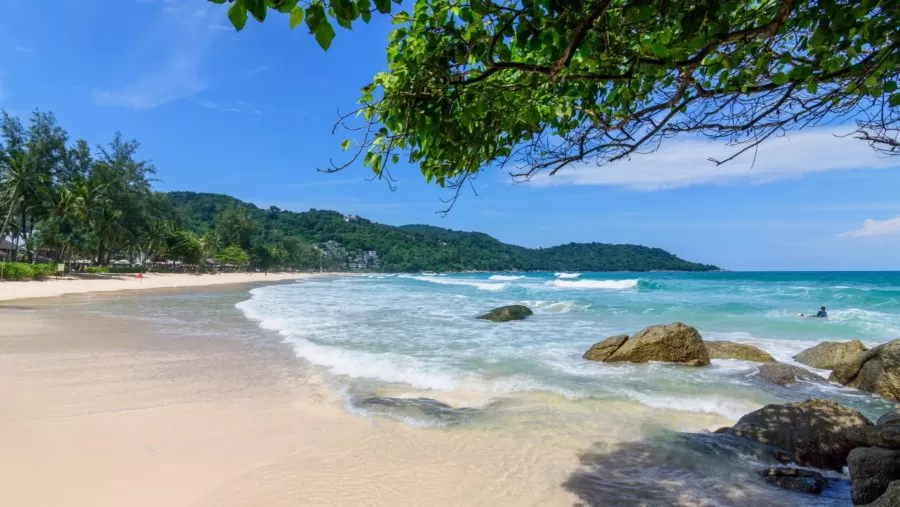 ---
Monthly Average Max / Min Water Temperatures
| | | | | | | | | | | | | |
| --- | --- | --- | --- | --- | --- | --- | --- | --- | --- | --- | --- | --- |
| | Jan | Feb | Mar | Apr | May | Jun | Jul | Aug | Sep | Oct | Nov | Dec |
| Min °C | 27 | 27 | 28 | 28 | 29 | 28 | 28 | 28 | 28 | 28 | 28 | 27 |
| Max °C | 30 | 30 | 31 | 32 | 32 | 31 | 31 | 31 | 31 | 31 | 31 | 31 |
Monthly Average Max / Min Water Temperatures – Phuket, Thailand
---
Things to Do in Hat Kata Phuket
1. Karon Viewpoint
Karon Viewpoint, located between Hat Kata Noi and Nai Harn, is one of the most visited viewpoints in Phuket. This clifftop lookout offers magnificent views across Hat Kata to the northern area of Karon and, to the south, the coast to Laem Phromthep. This viewpoint is well known for its beautiful sunsets.
---
2. Surf House Phuket
The Surf House Phuket offers easy surf lessons for people of all ages. This is the perfect way to learn how to surf on the Double FlowRider, a wave simulator. This will give you the confidence boost you need to get out and try surfing on the real waves at Kata beach.
Even experienced surfers will have some fun at this venue whilst enjoying great music, and international food and drinks.
---
3. Kata Noi Viewpoint Reggae Bar
As you follow the road to Nai Harn, there are a number of restaurants / bars on the right side which are the perfect place to watch the sunset over Kata Noi whilst listening to some reggae music.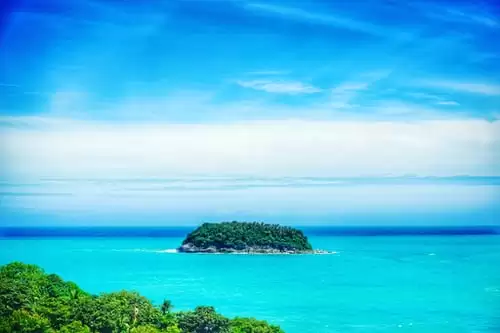 ---
4. Wat Kittisankaram
A vibrantly coloured temple complex, Wat Kittisankaram is located on a large piece of land and surrounded by a tropical forest. It was built in 1832 and has been well maintained over the over years and in a constant state of renovation.
The temple consists of a beautiful ordination hall which houses the temple's main statue of Lord Buddha. The temple grounds also feature the monastery's pavilion, monks' dormitories and a local primary school.
---
5. Kata Night Market
The Hat Kata night market is located on Patak Road and is open from 2pm to 9pm. It is the best place to go for souvenir shopping and a taste of the local street food. It's a kaleidoscope of colours, smells, textures and tastes that should not be missed.
---
6. Diving and Snorkelling
There is a great shallow snorkelling and diving location on the north side of the Hat Kata Yai bay. This coral reef is on the right hand side of the beach that goes out to Ko Pu. Information and snorkelling / diving equipment is available from several dive centres in the Kata area.
---
7. Surfing in Kata Beach
The west coast of Phuket, including Kata beach, is slowly gaining attention as the best surf destination in Thailand. The south end of the beach is considered to be the best board riding in Phuket so attracts the surfing crowd to this area.
The prime season for surfing is the shoulder and rainy season from April to September. The waves are fast but manageable, although you will only get a short ride. Surfboards can be rented from Phuket Surf at the far south end of the beach.
---
Other Things to Do in Phuket
1. Phang Nga Bay
Phang Nga Bay lies between southern Thailand's mainland and Phuket Island. Also known as Ao Phang Nga National Park, it's characterized by limestone karsts and rock formations that jut out of the emerald green waters.
Among the islands are Koh Tapu, otherwise known as James Bond Island for its appearance in a Bond film. Koh Panyee is the other drawcard for this area which is a floating fishing village of 360 families built entirely on stilts in the middle of the bay.
The best way to enjoy this spectacular scenery is by taking a boat trip from the northern end of Phuket. Your day will include cruising through Phang Nga Bay's dramatic limestone islands, and occasionally stopping to enjoy quiet beaches.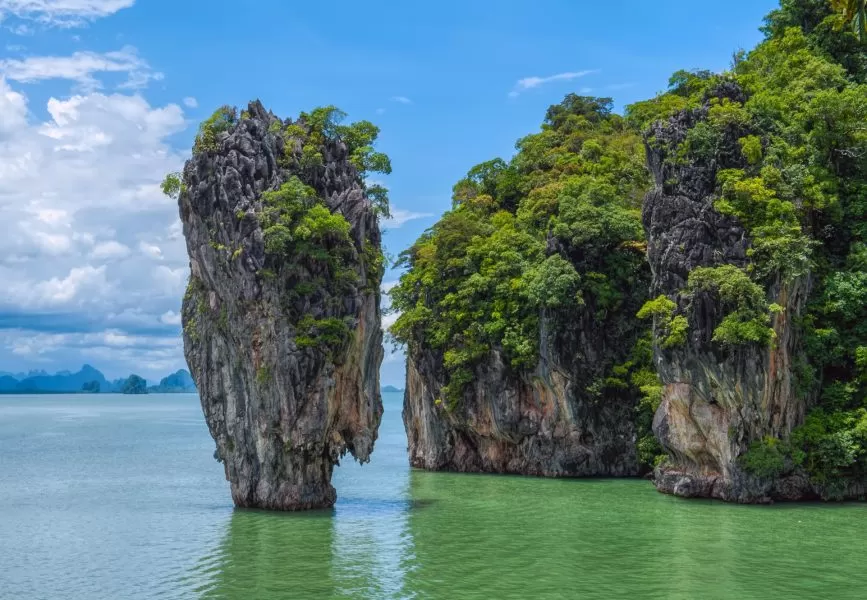 ---
2. Phuket Weekend Market
Phuket Weekend Market is the island's largest night market and is the best market on the island. It's an eclectic mix of second hand goods, clothing, bags, and souvenirs, as well as tasty street food to sample.
They are located in Phuket Town and are open Saturday and Sunday only from 4 pm to 11 pm.
---
3. Bangla Road
No holiday is complete without an after-dark stroll down Patong's Bangla Road. The street showcases Thai nightlife at its best complete with a huge range of bars, nightclubs, and shows of every description. Open minds are essential, as is a good sense of humour and the willingness to have some fun.
---
4. Scuba Diving
Rated among the top 10 diving destinations in the world, Phuket is a great place to learn to scuba dive and get your, PADI (Professional Association of Diving Instructors) Certificate. In particular, you can explore some of the best sites all around the Andaman Sea like Hin Daeng in Kho Phi Islands and Racha Islands, known for King Cruiser wreck.
Phuket is also the starting point for many live boards to Similan Island and Surin Island.
The best time to dive is November to April when water visibility is good and conditions are calmer. The Surin and Similan Islands can be visited from mid-October to mid-May.
---
5. Chalong Bay Rum Distillery
If you like rum, then Chalong Bay Rum Distillery in Chalong is a must visit! We stumbled upon this distillery a week after they first opened to the public and have been regular visitors each time we return to Phuket.
Take a tour of the distillery and go behind-the-scenes to discover how the facility uses centuries-old French distillation techniques to transform freshly pressed sugarcane into smooth white rum.
Make sure you try some of their signature cocktails. WE are yet to find one we don't like, but the 'Spicyrinha' and 'Siam Twist' are some of our personal favourites and recommendations
6. Big Buddha Phuket
Located atop the Nakkerd Hills in Karon, the 45 metre tall Big Buddha is visible from most of the south of Phuket. It cost 30 million baht to construct and is 45 metres tall. The drive up to the Big Buddha takes you through some beautiful jungle and villages. It is open daily to the public from 6am to 7pm.
---
7. Thai Boxing
The most popular spectator sport in Thailand is Muay Thai and there is a Muay Thai event somewhere in Phuket nearly every day of the week.
One of the best places to go to watch this sport is at the Patong Boxing Stadium on Soi Sai Nam Yen in Patong. As well as local fighters, there are also usually westerners on the bill. Fights take place every Monday and Thursday night from 9:00pm until late. Tickets cost 1,300 baht for a stadium seat, 1,500 baht for a ring side seat, and 1,800 baht for a VIP seat.
---
Shopping in Hat Kata
There are shops dotted throughout Kata selling souvenirs and apparel but KT Plaza (next to Black Canyon Coffee) are selling the greatest range of goods within their shopping area.
The Thursday local market is just off the main Kata Road and it is here you will find the locals buying their fish and spices. This is a great little market for the first-time traveller to Thailand.
---
Nightlife in Hat Kata
Phuket is famous for its fantastic nightlife, and Kata, while a little less hectic than Patong, is no exception. There are a variety of good bars to choose from – classy upmarket beach clubs to the relaxed ambience of a reggae bar on the beach. Venues offer a wide variety of music and cater to different tastes. Also, there are some great 'Happy Hours' on offer early in the evening.
---
Ska Bar (south end of Hat Kata Yai Beach)
A funky ska / reggae-oriented beach bar, right on the sand. They play good music, and have fire dancing shows on Fridays.
---
After Beach Bar and Restaurant (on the hill overlooking Kata Noi Beach)
A large, cool restaurant / bar with a fantastic view of the ocean and sunset. They play reggae and other good music, and have a bar to hang out at.
---
Eating in Hat Kata
Restaurants are in abundance everywhere in Hat Kata. They range from high-end restaurants to moderate costing restaurants serving a variety of international and local Thai dishes.
---
In Summary: Hat Kata in Phuket
We have been travelling to Phuket and staying in Kata for the past 20 years and we love it as much now as we did when we first went. It has the perfect blend of enough things to do, beautiful beaches, fun nightlife, shopping and tasty Thai food.
READ MORE: IMMERSIVE 4 DAY ITINERARY FOR CHIANG MAI
Have you been to Hat Kata in Phuket? What did you like about it? Leave a comment below.
---
TRIP PLANNERS FOR THAILAND: RELATED BLOG POSTS
Want more info to help you plan your Thailand holiday? Check out all the articles we've written on travel in Thailand below and continue planning your trip.