Top 20 Things To Do in Västerås, Sweden [2023]
There are many amazing things to do in Västerås Sweden to suit every type of traveller. So, to make your Västerås travel planning easier, read on to see our pick our favourite things to do in Västerås!
Västerås is Jonas' home town and all of his family still live here. As such, we are lucky enough to call this our home base in the North, and have explored this area, and its surrounding areas extensively.
Västerås is Sweden's fifth largest city and is located in central Sweden. It is an hour (approximately 100 kilometres / 62 miles) northwest of Stockholm and is easily accessible by road or rail.
Västerås is one of the oldest cities in Sweden and Northern Europe, being officially established in 990 AD. As such, the town offers a lot of historical sites from the Nordic Viking Age, and medieval churches and castles.
Once in Västerås, almost all attractions are within walking distance or can easily be reached by public transportation. Until recently, the city has been almost completely overlooked by tourists, however, it is fast becoming a popular destination due to its proximity to Stockholm.
Filled with lots of things to do and exciting attractions, Västerås is a great city to explore!
Planning your trip to Västerås last minute?
Below are some of the top hotels and more! Don't forget to plan ahead when visiting Västerås and nearby!
TOP HOTELS IN VASTERAS:
1. STEAM HOTEL (the best hotel in Västerås and great for a splurge!)
2. COMFORT INN VASTERAS (free room upgrade!)
3. SURE HOTEL BY BEST WESTERN ESPLANADE (right in the city centre!)
Looking to travel around Västerås independently? Be sure to book your Västerås rental car ahead of time to ensure availability! Click here to check Västerås rental car rates!
For Flights – We recommend Skyscanner
For Tours / Experiences – We recommend Viator
For Travel Insurance – We recommend SafetyWing
So, what are the best things to do and activities in Västerås? Read on to see our personal recommendations and favourites based on over 20 years of travel to Västerås and our many extended stays.
---
---
Things To Do in Västerås Sweden
N.B. Not in any particular order.
1. Anundshög – Historic Site
Anundshög is located just outside the City of Västerås. It is Sweden's largest burial mound measuring over 64 meters across and nine meters high. Its name was derived from the Old Norse word 'Hög' or 'haugr' meaning mound or barrow.
Historian's assessments of the era of the mound vary between the Bronze Age and the late Iron Age. Some scholars have associated the mound to the legendary King Anund, who ruled the House of Yngling in mid-7th Century.
At the base of the mound at Anundshög you will see two stunning ship setting memorials placed end to end. These are typical Nordic monuments built with stones set in the form of a ship. The largest one, of the five restored, measures 54 meters in length and 16 meters in width.
You will also be able to see the Eriksgatan, remnants of a pathway lined with rune stones leading from the east side of the barrow. It is said Sweden's early kings had to walk this pathway to be confirmed by the 'lawmakers'.
There is even a stone labyrinth that dates back more than a thousand years.
The site of Anundshög was an important trading and meeting area during the Iron Ages. Inhabited between 500 BC to around 1050 AD, the area is counted as one of the richest areas for archaeological findings in the country.
Anundshög lies less than 10 kilometres east of Västerås. To get there, you will need to drive E18 west or east until Anundhögsmotet and follow the signs. Alternatively, you can catch Bus #24 or Bus #1, or rent a bicycle / e-scooter and the trip should take approximately 30 minutes.
Visit Duration: 2 hours
Hours: 10:00am – 5:00pm, Everyday (Guided Tours – 10:30am and 2:30pm)
Cost: Free
Website: Anundshog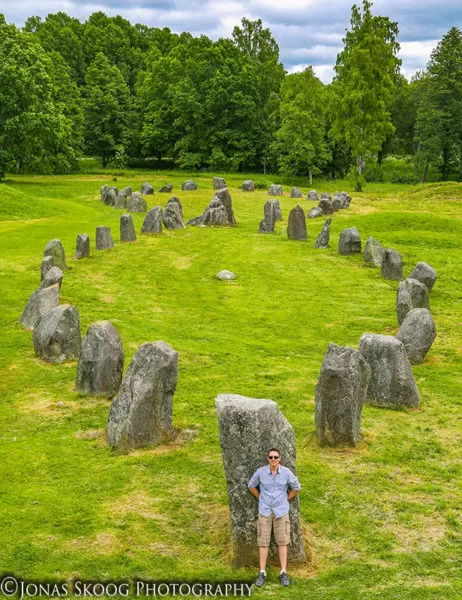 ---
2. Björnö – Island to Explore
Björnö is Västerås city's main island. It's connected to the main land with a little bridge, and is very easy to find by following the signs posted everywhere. There is a nice little beach area for swimming, walking paths through the forests, and kayak, canoe and boat hire at Björnögården. In the winter you can rent also rent skies and skates.
Visit Duration: 2+ hours
Hours: All Day, Everyday
Cost: Free
Website: Björnögården
---
3. Botaniska Tradgarden – Gardens
In the centre of Västerås near the Rudbeckian School and the cathedral is Sweden's oldest garden to be planted specifically for botany students. A disciple of the great taxonomist, Carl Linnaeus, established this carefully ordered garden in the middle of the18th Century.
At the beginning of the 20th Century, the garden developed into a high-class botanical garden, with the help of Professor Rutger Sernander, among others. All species are labelled with their scientific names according to the system Linnaeus invented.
Visit Duration: 1+ hours
Hours: All Day, Everyday
Cost: Free
---
4. Djäkneberget – Inner City Park
Djäkneberget is a beautiful park in the city centre stretching over 12 hectares of land. Located on a hilltop, it offers beautiful views towards the Cathedral, City Hall and Lake Mälaren.
The park was commissioned in the 19th Century by Sam Lidman, a former colonel turned language and physical education teacher at the nearby school. Scattered throughout the park he placed almost 500 stones with inscriptions, reflections and names of honourable people. Among these are notes from the last two kings of Sweden, King Gustav VI Adolf and King Carl XVI Gustaf, written on their visit to the park.
This park is still a popular place to have a picnic, enjoy a round of mini golf, for kids to play in the playground, a restaurant and popular summer dance pavilion.
Visit Duration: 1+ hours
Hours: All Day, Everyday
Cost: Free
Website: Djäkneberget
---
5. Elba Ferry – Explore Mälaren's Archipelago
Take a tour on the Elba ferry out among bathing and summer cottage islands in Lake Mälaren's beautiful archipelago. You can reach Öster Mälarstrand with playground Poesiparken and the bathing island Östra Holmen. You then go to another island called Elba Island (the ferry's namesake) which has a great restaurant looking back to Västerås, the campsite on Johannisberg with its nice beach, and the water park Kokpunkten.
A round trip takes about an hour if you want to stay on board. Alternatively, enjoy a half day or full day trip by hopping off and on the ferry and exploring the islands or enjoying some swimming and sunbathing.
Visit Duration: 1+ hours
Where: Vasteras Harbour
Hours: May until August
Cost: Please check website for pricing guide
Website: Elba Ferry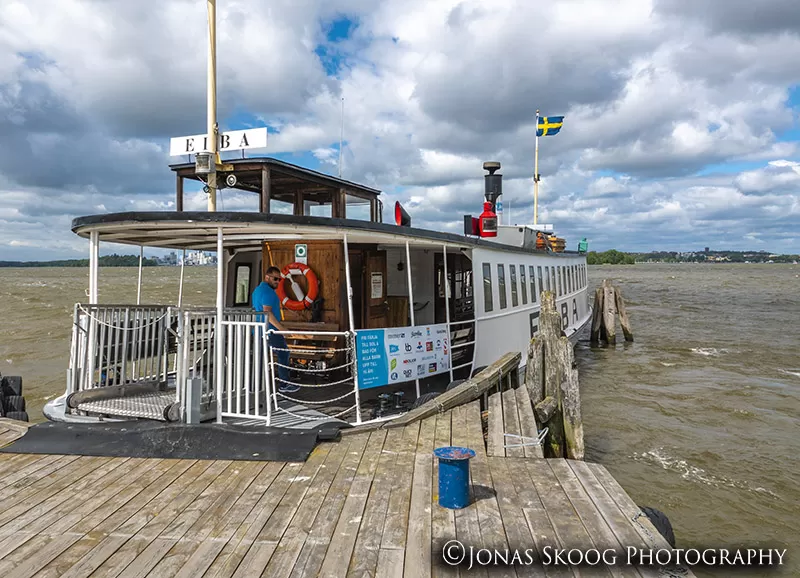 ---
6. Engsö Castle – Historic Castle
Engsö Castle (modern spelling Ängsö Castle) is a castle on a really nice island located 15 kilometres from Västerås. The island is renowned for its beautiful scenery and wildlife.
Engsö Castle, dating from the 1100s, acquired its present appearance in the 1740s when the architect, Carl Hårleman, created a representative home for count Carl Fredrik Piper. The fourth floor, as well as wings and farmhouses, was built and the park was laid out. The upper floors were renovated in the Rococo style.
The castle was inhabited by the Piper family until 1959, but is now owned by a foundation which allows visitors throughout the summer months. Today, Engsö castle is a living museum decorated with period furniture, chandeliers, stuccowork, parquet floors and 18th Century portraits.
There is also a small medieval church to visit and a cafe where you can enjoy fika by the water. There are also lots of hiking tracks throughout the property and many spots to have a swim or enjoy a picnic.
To get there, take E18 West, towards Stockholm to the Airport Exit, and from the roundabout just follow the signs saying "Ängsö".
Visit Duration: 2+ hours
Hours: May to August -Please check the website for opening hours
Cost: Check the website for details
Website: Engsö Castle
---
7. Frösåkers Brygga – Open Air Museum
This open air museum showcases Viking heritage in a replicated village setting. The main attraction of the village is Sweden's largest floating boat museum, a collection of 25 wooden ships, some of which are antiques while others are reconstructed. There are beautiful replicas of longships and an amazing reconstruction of an historic 14th Century Hanseatic trading vessel discovered in Skanör harbour in 1991.
The village also has a historically accurate Viking hall, and activities such as learning how to brew beer, make flatbread over a roaring fire, rowing, sailing, testing your archery skills, Viking games, and firing a catapult.
Around 20 minutes southeast of Västerås, this museum makes for a great morning or afternoon out for the whole family.
Visit Duration: 2+ hours
Hours: May to August – 12:00 -8:00pm, Everyday
Cost: Free
Website: Frösåkers Brygga
---
8. Hubbo Kyrka – Historic Church and Cemetery
Hubbo Church is one of the best preserved medieval churches in the region. The church was built during the first half of the 14th Century, but a baptismal font from the 13th Century suggests that there was a church there before.
Some features within the church of note are:
The eight wooden figures behind the altar said to be made in the 14th Century in Germany.
The baptismal font made of sandstone is from the 13th Century, but the most distinctive feature of the font is the solid pine lid. These were common during the Middle Ages to protect the consecrated water.
In the choir there are two medieval wooden figures preserved from the 13th and 15th Centuries. The oldest represents the saint King Olof who sits on his throne, and under his feet lies the now headless troll Skull.
There is also an old cemetery on the grounds of the church which was interesting.
Visit Duration: 1 hour
Hours: 9:30am – 2:30pm, Weekdays
Cost: Free
Website: Hubbo Kyrka
---
9. Kokpunkten Actionbad – Water Park
Kokpunkten Water Park is located just behind the Steam Hotel on the main harbour. The eight story former steam power station has been transformed into an action-packed water park suitable for adults and children alike.
Not only does the park offer adrenaline pumping rides such as waterslides, but there are also hot tubs, saunas and a heated (34 degrees) open-air outdoor pool on the eight floor that overlooks the Lake Mälaren.
There's also an area for adults only, the Boiling Point Relax, where you can relax in a hot spring, enjoy one of the three sauna concepts, or immerse yourself in an invigorating aroma bath.
Visit Duration: 4+ hours
Hours: 4:00pm – 9:00pm, Weekdays; 10:00am – 8:00pm, Weekends
Cost: Adults – 210 SEK / AUD$33 / USD$25.50, Child (aged 4 – 11) – 150 SEK / AUD$23.50 / USD$18
Website: Kokpunkten Actionbad
---
10. Kungsbyn – Animal Park
Kungsbyn is a small but very well run zoo just 15 minutes out of Västerås showcasing 34 different animal species. It is perfect if you have kids as there are lots of opportunities to get up close to and interact with the animals. Basically, all animals that can be petted, you can pet.
Some of the animals you can expect to see are moose, red deer, visent, camels, alpacas, lemurs and fox. In addition, the park also has a terrarium with snakes and iguanas.
Visit Duration: 2+ hours
Hours: 10:60am – 6:00pm, Everyday
Cost: See website for details
Website: Kungsbyn
---
11. Kyrkbacken – Historic Neighbourhood
Kyrkbacken is one of the oldest parts of Västerås centrally located in town near the Rudbeckianska Gymnasiet (high school). In the past, this area was the northern border of the city and housed the poor and outcast inhabitants of Västerås, while the clerical elite and bourgeois lived in the southern part of the city.
After the Second World War, most of the town of Västerås was either demolished or modernised, but Kyrkbacken was spared. Over the years the village and homes have been renovated to retain its traditional feel and historic charm.
We highly recommend a stroll along the small cobblestone lanes to explore this pretty old part of the city. You will see traditional houses and cottages made of painted wooden and stone.
Visit Duration: 1 hour
Hours: All Day, Everyday
Cost: Free
---
12. Sala Silvergruva – Silver Mine
The small town of Sala, located a 30 minute drive from Västerås, is best known for its historic silver mine dating back to Medieval times, and was fully operational until 1908. In 1624, the town of Sala was moved to its current location to be closer to the mine.
The silver was important for Sweden's economy and a total of 400 tonnes of silver was extracted and brought to the surface, and 40,000 tonnes of lead. The mine eventually reached a depth of 300 metres, and a total length of 20 kilometres.
Tours available include:
60 Meter View – In the Footsteps of Kings and Miners (75 minutes)
Your guide will take you down to a depth of 60 metres explaining how the rock was worked with fire, iron skewers and sledgehammers along the way. You will see the world's largest man made shaft, and visit Baron Hermelin's 18th Century hall, where you can also look out into Lillienberg's huge rock room which is 40 meters from floor to ceiling.
The Great Mining – Experience Most of the Sala Silver Mine (3 hours)
This is the ultimate tour where you will experience two major pre-industrial mining levels. You will proceed down to the 60 metre depth, and then the mining lift will take you another 100 meters deeper into the former treasury. The tour continues through Ulrika Eleonora's bottom at a depth of 155 meters. There you can view the underground concert hall named after Crown Princess Victoria, underground lakes and streams formed by the groundwater, and experience the Echo Hall.
Temperatures down in the mine are 2 – 5°C throughout the year so be prepared with warm clothes and sturdy shoes.
N.B. There is limited availability on all tours so we strongly recommend that you book your tour well in advance.
Visit Duration: 2 – 3 hours
Hours: Summer Months – 10:00am – 5:00pm, Everyday
Cost: Check Website for Costs of Individual Experiences
Website: Sala Silvergruva
---
13. Skultuna – Brass Foundry
The town of Skultuna is situated around 10 kilometres north of Västerås city centre. The town is famous for its brassworks, and the Skultuna Brass Foundry is still located in the same place it was when the mill was founded by King Karl IX in the year 1607.
The factory is well known for its timeless design and high quality and has been issued with the title of 'Purveyor to the Royal Court of Sweden since 1607'. One of Skultuna's most famous 19th Century designers was Hjalmar Norrström, whose ornaments were given as official gifts by Sweden's kings. One of his most famous creations is a brass baptismal font which won the Gold Medal at the 1900 Paris Expo and is on show in Skultuna.
There is also a Museum onsite in the newly renovated 19th Century factory buildings and is free to enter. The museum shows the newly produced film that tells the story about Skultuna in about 15 minutes. Also, there are a large number of displays showing the history of the brass foundry.
The Flagship Store offers a large range of design products forged by Skultuna which make the perfect gifts. Also, there is a Café where you can fika on the terrace beside the Svartå River.
The factory shops offer a large range of outlet products from Swedish quality brands like Orrefors, Kosta Boda, Ekelunds, Snö of Sweden, Linum, Målerås and of course Skultuna. Iittala also has a large outlet store in the buildings.
Visit Duration: 1 – 2 hours
Hours: 11:00am – 6:00pm, Monday to Friday; 11:00am – 5:00pm, Saturday and Sunday
Cost: Free
Website: Skultuna Brass Foundry
---
14. Strömsholm Palace – Royal Castle
Strömsholm Palace, sometimes called Strömsholm Castle, was built in the Baroque style on the site of a fortress from the 1550s. The palace has an 18th Century Gustavian décor and houses an important collection of Swedish paintings.
Early in the 1550s, King Gustav Vasa ordered the building of a Palace on a small island in the fast-flowing Kolbäck River and Lake Mälaren. At the end of the 1660s, Queen Dowager, Hedvid Eleonora, ordered most of the Palace to be demolished. She collaborated with the architect Nikodemus Tessin the Elder, and the new palace was built along with around twenty other buildings on the palace grounds.
The Royal Family frequented Strömsholm in the first decades of the 19th Century. However, Strömsholm was never a permanent royal residence. Instead they liked to stay here overnight on journeys to the south of Sweden.
Throughout its history, the Palace has been associated with horses. King Gustav Vasa began breeding horses here for the Swedish Army, and Strömsholm became the riding and driving Academy for the Swedish Army for 100 years (1868 to 1968). Today, Strömsholm is a hippological centre, where important Swedish equestrian competitions are held each year.
Guided tours of 45 minutes are available to hear about the palace's royal history, the history of the building itself and the preserved furnishings. Tours are for individuals, and cost 30 SEK / AUD$4.70 / USD$3.60 in addition to the standard entry price. Daily, they run at 11:00am and 1:00pm in Swedish, and 3:00pm in English.
Visit Duration: 2+ hours
Hours: Summer Months – 12:00 – 4:00pm, Everyday (except Monday)
Cost: 100 SEK / AUD$15.60 / USD$12
Website: StrömsholmPalace
---
15. Tidö Castle – Historic Castle
Tidö Castle is probably one of Sweden's best preserved castles. Built from 1625–1641 in strict Dutch Renaissance style, the key architectural elements are the beautiful sandstone portals. For 200 years, Tidö was owned by the Oxenstierna family and was first sold in 1840. Since 1890, four generations of the von Schinkel family have owned, inhabited and cared for Tidö.
In 1971, Carl-David von Schinkel opened the parade floor of Tidö Castle to guided tours for the public so everyone could see its fantastic cultural heritage. However, a large part of the castle it is still a private home today.
Some of the highlights on a tour is the magnificent The Knights Hall, and the bright and beautiful Yellow Salon so called due to the yellow brocade silk clad walls.
Guided tours are available year round but must be booked in advance
Visit Duration: 2 hours
Hours: Summer Months – Please check website for opening hours
Cost: Child (8 – 18 years) – 90 SEK / AUD$14 / USD$11; Adults – 140 SEK / AUD$22 / USD$17
Website: Tidö Slott
---
16. Vallby Friluftsmuseum – Open Air History Museum
Just a short walk from the city centre is Vallby Friluftsmuseum, one of the largest open air museums in Sweden. Vallby Open Air Museum was founded in 1921 to present a picture of life in Västmanland County.
Today, the museum features around 50 buildings from the region along with exhibits that represent the county through time. Walk through the village and explore:
City Quarter –includes a city square and buildings from various places in Västmanland
Manor House and Gazebo – the Museum's country estate, or manor, consists of three buildings and their surroundings
Farmstead – a typical farmstead from the 19th Century in Västmanland
Country Store – consists of a store, office, residence and exhibition
Ironmaster's Homestead – exhibits a house with paintings from the 17th Century, cattle shed, storehouse and a sawmill
Village School – a school room and the teacher's residence from around 1910
Vicarage – the vicarage from Lillhärad is a cottage from 1750
Boathouse with Church Boat – the church boat was used on Lake Åmänningen to get to the church on Sundays
Vallby Open Air Museum seeks to recreate and show environments that people once lived and worked in. Live exhibitions also allow you to see skilled tradesmen demonstrating traditional crafts. You will also have the opportunity to see animals they kept, and the plants and crops they cultivated in gardens and fields.
On the museum grounds there is also a coffee shop perfect for enjoying a fika, and a gift shop selling handicrafts made in the museum's workshops.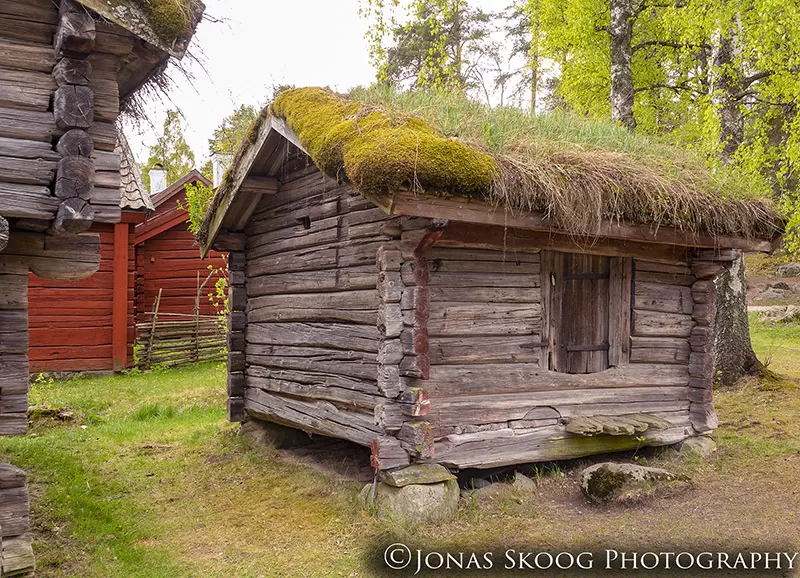 ---
17. Västerås Castle – Historic Castle
Västerås Castle is centrally located near the city centre and dates back to the 13th Century.
The castle's current form was built in the 16th century by King Gustav Vasa. The Vasa dynasty has a rich history with the castle. King Gustav's son and successor, Eric XIV, was imprisoned in the castle for more than a year, under concerns of mental instability. The unfortunate king was deposed and later murdered, before his body was buried at Västerås Cathedral.
The castle was taken over by Gustav Vasa during the middle of the 16th Century. It was in poor condition so he renovated and extended it. In 1544 the government gave King Gustav's son and successor, Eric XIV, his own quarters in the castle, however this later became his prison.
For more than a year, Prince Erik was imprisoned in Västerås Castle with concerns of his mental instability. He was dethroned and it is reported he was from poisoned by his brother with pea soup. His body was returned to Västerås for burial in the Västerås Cathedral.
Västmanland's county museum is today housed in Västerås Castle including the county archive, library and administration. The museums objectives are to deepen knowledge of Västmanländ's cultural heritage, to facilitate and encourage interest, to deepen insight into the past and thereby enrich perspectives of the present and the future.
Today, Västerås Castle houses a small museum including the county archive, library and administration. The museum aims to give insight into the area's local heritage and culture. There is also a restaurant and café on site for visitors to enjoy.
Visit Duration: 2 hour
Hours: 12:00pm – 10:00pm, Saturday
Cost: Free
Website: Västerås Castle
---
18. Västerås Cathedral – Historic Architecture
One of the city's most recognizable landmarks is Västerås Cathedral. It has even been awarded three stars by Guide Michelin, with the explanation: "worth making a tour for".
The city's cathedral was consecrated in the 1200s, but there have been many extensions and restorations since then. The most recent renovation to the cathedral built in Scandinavian Brick Gothic style was in 1958-61.
The interior of the cathedral is now home to both modern art and architecture, with amazing art and architecture from the Middle Ages and Renaissance. There are 163 intact tombs and monuments marking the memory of many wealthy and prominent individuals. One of these is King Erik XIV's (Gustav Vasa's eldest son) grave.
You will also find a year-round exhibit in the Treasury of objects that tell about the Christian faith from both a historical and a contemporary perspective. These include paintings, statues and ecclesiastical clothes.
Visit Duration: 1 hour
Hours: 9:00am – 5:00pm, Everyday
Cost: Free
Website: Västerås Cathedral
---
19. Västerås Flygmuseum – Aviation Museum
Located at Västerås Airport in an Air Force hangar erected in the 1930s, Västerås Flygmuseum is dedicated to flight and aviation history.
The museum currently has a collection of more than 25 vintage aircraft and most are in flying condition. There is also a display of a variety of both piston and jet aircraft engines, as well as peripherals such as radios and instruments.
A simulator section with several realistic flight simulators are also available including a SAAB J 35 Draken, Convair CV440 Metropolitan, McDonnell Douglas DC-10, Airbus A320, and a fully functional Linktrainer.
Visit Duration: 1 – 2 hours
Hours: 11:00am – 4:00pm, Sunday
Cost: Child (0-15 years) – Free, Adult – 100 SEK / UAD$15.50 / USD$12.00
Website: Västerås Flygmuseum
---
20. Västmanland's County Museum
Västmanland's Läns Museum (Västmanland's County Museum) is located in the same building as the Västerås Art Museum. The museum aims to improve and convey knowledge about the history and culture of the wider Västmanland County from the Stone Age until the turn of the millennium
The exhibitions provide an insight into the lives of the people who lived in Västmanland at different times. We tell, among other things, about everyday life and work and about the importance of iron in the county's history.
While visiting the Västmanland's County Museum, make sure you also visit the Västerås Art Museum (in the same building), which puts on temporary exhibitions for Swedish and Nordic contemporary art.
Visit Duration: 1+ hours
Hours: 10:00am – 5:00pm, Tuesday to Friday; 12:00pm – 4:00pm, Saturday and Sunday (Closed Monday)
Cost: Free
Website: Västmanlands Läns Museum
---
In Summary – Things To Do in Västerås Sweden
We love Västerås, and we know you will too! Västerås has something to offer every type of traveller. There are lots of things to do and places to visit throughout the city, and our list above should offer enough of a variety to suit all members of the family.
If you are visiting Stockholm, make sure you do a day trip to Västerås. You will not regret it!
Have you visited Västerås? Are you planning a trip and looking for things to do in Västerås? Post your tips and questions below.
---
Trip Planners For Sweden: Related Blog Posts
Want more info to help you plan your Swedish holiday? Check out all the articles we've written on travel in Sweden below and continue planning your trip.
---
Other Blog Posts in Europe
Looking for some more inspiration on travel in Europe? Here are some more posts that you might like!
---
Essential Travel Planning Resources for Sweden
Below are our favourite companies to use for planning our travels to Sweden. They consistently turn up the best deals and overall, are better than their competitors. These are always our starting point when we need to book a flight, accommodation, tour, transportation etc.
Book Your Flight:
Our two favourite search engines for finding cheap flights are Skyscanner and Kiwi. They compare all of the available prices across every airline to help you compare flights in one place.
Book Accommodation:
Booking.com and Agoda consistently return the best rates for guesthouses and hotels in Sweden. To find a budget hostel, our favourite site is Hostelworld and Airbnb are great if you are looking to stay for a longer period of time with apartment amenities such as a kitchen.
Book a Tour:
We prefer to travel independently, however, sometimes the best and cheapest way to see the highlights of a city / country is to book a tour or package. For Sweden, we always use GetYourGuide and Viator for our tour bookings. If we are only going to be in a city for a day or two and want to make the most of our time there, we book through Big Bus Tours.
Book Transportation:
Our first port of call for transportation planning is Rome2Rio. This website allows us to see how to get from point A to point B the best and cheapest way possible. For road trips in Sweden, we always use Discover Cars, a reliable site for finding the best deal on car rentals. Flixbus is our preferred company for bus travel and Eurail for train travel.
Book Travel Insurance:
Travel insurance will protect you against illness, injury, theft and cancellations. We never travel without it as we have had to use it several times in the past. We have been using 1Cover for the past 4 years, however, we also recommend SafetyWing as many of our fulltime travel friends swear by them.
Always Carry With You:
When travelling in Sweden, we always carry a daypack for excursions and the Lonely Planet Guide!
Ready to Book Your Trip?
Check out our Travel Resources page for the companies we use and recommend to plan and book our travels. Through lots of trial and error over the years, these are the best!
---
DISCLAIMER: This article contains affiliate links and Exit45 Travels are a participant in the Amazon Services LLC Associates Program. That means if you click a link and make a purchase, we make a small commission at no extra cost to you. Please see our disclosure policy for more information.
---