Travel Guide to Marmaris Beach in Turkey
Marmaris beach in Turkey is a very popular summer holiday destination, and in part this is due to the numerous activities on offer.
The city is known for its bargain shopping, quality restaurants and the amazing Bar Street, ideal for those that also want to have some fun at night. From the stunning white sand beaches and turquoise waters, to the magnificent relics and ruins, Marmaris is a city unlike most others.
We have travelled and spent time in other coastal areas in Turkey such as Alanya, Antalya, Bodrum and Izmir, but we loved Marmaris for its stunning beaches and shopping.
---
READ MORE: MARKETS IN MARMARIS, TURKEY
---
Planning Your Trip? Use Our Favourite Resources Below!
Accommodation – We recommend Booking.com
Flights – We recommend Skyscanner
Tours / Experiences – We recommend Viator
Car Rental – We recommend DiscoverCars
Travel Insurance – We recommend SafetyWing
---
---
Introduction to Marmaris Beach, Turkey
Marmaris is a Mediterranean resort town along the Turkish Riviera (also known as the Turquoise Coast) with a long seafront promenade. It's known for its lively nightlife on Bar Street, and it is a popular sailing and diving destination. It has two large and several smaller marinas, and it is a popular wintering location for cruising boats. Marmaris sits in a valley between two intersecting sets of pine-forested mountains and clear waters.
---
Map of Marmaris Beach
---
Population of Marmaris Beach
This Turkish city has a population of approximately 34,000, however, this population can increase up to 350,000 during the height of the tourist-season.
---
How to Get to Marmaris Beach
The closest international airport to Marmaris is Dalaman International Airport, roughly 100 kilometres to Marmaris city centre. From the airport, you have a number of transport options to get you to Marmaris Beach area, however, the easiest is via an airport coach,
A coach transfer can be easily arranged on-line with frequent bus connections corresponding to the arrival and departure of scheduled flights. Havas airport bus transfer times are detailed outside the airport terminal building, and will cost 15 TL for a single ticket, and will take approximately 90 minutes.
---
How to Get Around Marmaris Beach
The cheapest way of getting around Marmaris Beach area is using the dolmus minibuses. These are 11 seaters which travel the main road in Marmaris and Icmeler, the neighbouring beach resort town. The fee is 1.50 TL anywhere in Marmaris and 2.50 TL between Icmeler and Marmaris. The dolmus minibuses have a green band across them and orange for Icmeler. You can pick them up from the side of the road by hailing for them and they will stop wherever you want on the route.
Metered taxis are also available or you can negotiate a price up front but they are very expensive.
---
Best Time to Visit Marmaris
Marmaris weather is influenced by its location on the southwest coast of Turkey. The peak tourist season in Marmaris is between the months of June and October when the average summer temperature ranges from 24°C to 28°C. July, however, can get extremely hot and unpleasant.
The months from mid-May to the end of June, and from early September to mid-October are ideal.
Most of the rain in Marmaris falls from November to January and temperatures are quite cold in winter, dropping to 10°C in January with evening lows of 5°C.
---
Is Marmaris Safe?
Marmaris beach area is a safe destination and suitable for couples and family holidays. However, the one area that is a safety concern is traffic rules and conditions. Cars speed along the roads and pedestrian crossings are not respected.
We witnessed this first hand when an older western couple stepped out onto a pedestrian crossing expecting traffic to stop like it does in other parts of the world. The bus we were in saw them at the last minute and locked up their brakes (we were travelling well in excess of the speed limit), and slid our way towards them. We thought for sure the bus would run straight over them but luckily, we stopped just in time, lightly bumping the couple and knocking them to the ground. There were no serious injuries other than some bumps, bruises and scrapes, but all who witnessed this were shocked. It could have been so much worse!
We highly recommend purchasing travel insurance when travelling overseas. Insurance will cover important things like emergency medical hospitalisation / evacuation, baggage delays and trip cancellation. We recommend World Nomads for quality travel insurance you can trust, at affordable rates.
BOOK: Buy Travel Insurance Here
---
Major Events Calendar
April
Presidential Cycling Tour (one of eight stages starting in Istanbul and ending in Alanya)
May
Marmaris International Yacht Charter Show
October
Marmaris International Short Film Festival
Marmaris International Race Week (end of)
November
Marmaris International Race Week (beginning of)
---
What Does the Marmaris Beach Area Have to Offer?
The options are plentiful for things to do in Marmaris. Beautiful beaches, lots of bars and restaurants, and fantastic shopping with wonderful bargains to be found. Bar Street is opposite the busy bazaar and will satisfy the most discerning clubbers with its huge outdoor dance venues and all of the latest tunes.
Marmaris has lots for families too. Great inexpensive boat excursions can take you out and to neighbouring towns like Icmeler and Turunc. The town also has two water parks and local travel agents offer a range of trips to Dalyan, Fethiye, Pamukkale and Ephesus.
---
Best Beaches In and Around Marmaris
Marmaris has some wonderful beaches within half an hour's drive. There are approximately 10 kilometres (6 miles) of breathtaking beaches and crystal clear waters in Marmaris starting from central Marmaris to Icmeler. The beach esplanade / promenade boasts great restaurants, cafes and bars.
Marmaris Downtown Beach
The beach in central Marmaris is not the prettiest of beaches with its mostly black, gritty sand. The sea is warm, crystal clear and perfect for swimming. In addition, it does have plenty of sunbeds and umbrellas which you can rent for a nominal fee.
2. Siteler Area Beach
This beach is very quiet in comparison to Marmaris beach and very relaxing.
3. Icmeler Beach
Previously a fishermen's village, Icmeler has rapidly developed into a popular holiday resort town over the last 15 years. It is a stunning beach with fine, golden sand, and clear, azure waters.
4. Amos Beach
The ideal beach if you are looking for peace and quiet. The waters are crystal clear off a pebble stone beach.
5. Turunc Beach
Turunc Bay is just a 40 minute dolmus ride to the west of Marmaris. Set in a quiet, traditional village, the extreme differences to the neighbouring resorts of Marmaris and Icmeler are very noticeable.
6. Kumlubuk Beach
Amos and Kumlubuk are very close to each other and can be reached by dolmus or a boat trip. There are great restaurants that serve all kinds of dishes and the water here is crystal clear.
7. Ciftlik Beach
Çiftlik is famous for its beaches and is worth planning a day trip to visit. Also, most tour boats offer a swimming break in Çiftlik Bay.
---
Monthly Average Max / Min Water Temperatures
| | | | | | | | | | | | | |
| --- | --- | --- | --- | --- | --- | --- | --- | --- | --- | --- | --- | --- |
| | Jan | Feb | Mar | Apr | May | Jun | Jul | Aug | Sep | Oct | Nov | Dec |
| Min °C | 15.7 | 15.7 | 15.8 | 15.7 | 18.2 | 21.6 | 24.4 | 26 | 25 | 21.3 | 18.5 | 16.5 |
| Max °C | 19.6 | 17.5 | 17.8 | 19.1 | 22.3 | 25.9 | 28.6 | 29.6 | 28.9 | 26.5 | 23.4 | 20.7 |
Monthly Average Max / Min Water Temperatures – Marmaris Beach, Turkey
---
Things To Do in Marmaris
Marmaris Grand Bazaar
For most, the Grand Bazaar is a shopper's paradise! Here you can find anything: ceramics, the famous Turkish tea, Turkish lamps, kilim rugs, spices, scents, etc. There are also many 'designer label' items for sale.
2. Günnücek National Park (Marmaris Milli Parkı)
Enjoy a beautiful walk in the dense forests of Turkish pine trees and sweetgum trees just 10 minutes outside Marmaris resort town.
3. Ibrahim Aga Mosque
This mosque, completed in 1789, is situated not far from the market and it is worth visiting this majestic building to explore the interior decoration of this unique landmark.
4. Kapurcuk Kultur ve Gastronomi Evi Museum
This museum is the best place to witness the traditional way of life of local residents in Turkish homes in days gone by. Its collection includes costumes, household items, textiles, furniture, and jewellery.
5. Kemal Ataturk Monument
This monument is a real work of art and dedicated to the first president of Turkey, Mustafa Kemal Ataturk. You will find it on the promenade opposite the entrance to the Grand Bazaar.
6. Marmaris 19 May Youth Square
Fountains, statues and seating are features of this square, and it is surrounded by cafes and shops on all sides. It is especially charming in the evening.
7. Marmaris Atlantis Waterpark
Atlantis Marmaris Waterpark offers numerous slides, kids' pool, wave pool, mini golf, soft play areas, restaurants, bars and entertainment. This waterpark is located right on the sea front with private beach and offers free sunbeds and umbrellas all day long.
8. Marmaris Marina
This is the perfect area to take e a leisurely stroll and admire the yachts docked along the pier. The marina is a social hub and constantly brimming with atmosphere and fun including live performances all down the waterfront, and a wide variety of excellent restaurants and bars.
9. Marmaris Museum
The Marmaris Museum is located inside a castle and hosts a wide array of exhibits and artefacts that are all clearly labelled and offer a thrilling insight into the past of the Ottoman Empire. The castle also offers stunning views of the surrounding area.
10. Mona Titti Art Gallery
Art connoisseurs will appreciate the art gallery Mona Titti with its beautiful collection of paintings and hand-made items.
11. Museum of Beekeeping (Marmaris Bal Evi)
This museum will teach you all about the local traditional craft of beekeeping, including an exhibit with all the tools used in beekeeping. At the exit of the museum you will find a shop where you can buy honey, honeycomb and cosmetics based on honey.
12. The Dancing Fountains
Each evening, there is a nightly show lasts approximately half an hour and consists of a choreographed show of water timed to music and coloured lights. The show is free of charge and attracts many people each night.
13. Turkish Bath (Hamam)
An experience not to be missed is a traditional Turkish bath (Hamam) with sauna, body peel, foam massage and oil massage.
14. Turkish Night
A Turkish Night experience is a night with traditional Turkish food, dancing and entertainment including belly dancers. Many hotels do their own Turkish Nights and prices range from 15-30 TL for the buffet and entertainment.
---
Marmaris Excursions / Day Trip
Ancient Town of Kavn
Just like the ancient town of Amos, Kavn is not a crowded tourist destination, but it is worth spending some time here. The main attractions remaining from the ancient city are:
Acropolis of Impbros
Fortress of Heraclion
The shipyards
Well-preserved amphitheatre
The Agora
Ancient temples
Roman baths
Ruins of a Byzantine Basilica with large mosaic fragments
2. Carian Rock Tombs
Turkey is, of course, very rich in fascinating and well-preserved archaeological sites, but even among those, the Carian Rock Tombs are among the most memorable sights in Turkey. These stunning and unique rock-cut temple tombs are cut high into a cliff-side above what used to be the approach to one of the city's ancient harbours. In an effort to preserve these intricate and majestic carvings, tourists can only see them by boat.
3. Dalyan
Dalyan is a serene holiday town located on a beautiful riverside connecting Koycegiz Lake with the Mediterranean region. This area offers riverboat cruises, ancient and beautifully preserved ruins, Turtle Beach, mud baths, and some of the best and authentic restaurants in all of Turkey. One of the most notable sights would be the majestic carvings into the rock face of the nearby hills, the Carian Rock Tombs.
4. Dalyan Iztuzu Beach(Turtle Beach)
Iztuzu beach is a sandy stretch of about 4km at the end of a river delta surrounded by mountains. It is also an important nesting place for the endangered Caretta Caretta sea turtle. Apart from its unique setting, Iztuzu beach offers visitors many facilities including sunbeds, picnic tables, and cafes.
5. Marmaris Mountains
There are many tourist companies offering private tours of the Marmaris Mountains. They will, take you on a hike up the mountain, over rocky trails, past natural flora and fauna, to breathtaking waterfall lagoons and even to the summit where you can watch the sun setting into the sea.
6. Mugla
Mugla is the regional capital and can be reached by frequent bus services from Marmaris Bus Station (Otogar) for 12 TL. The trip will take about 1 hour over the mountains but it is well worth the effort. This Turkish town has not been affected greatly by tourism so the pace of life feels a little slower. The trip is worth it just to wander around the old town's narrow streets on the hill overlooking Mugla.
7. Scuba/ Snorkelling
Scuba and snorkelling excursions are incredibly popular in this area due to the extensive marine life.
8. Sedir Island
Sedir Island is known for its crystal clear, turquoise blue waters, white sandy beach, the ruins of Kedrai and Cleopatra Beach.
9. Town of Amos
The ancient city of Amos (or rather, its ruins), is another ancient culture worth seeing. The main attractions remaining from the ancient city are:
Ruins of town walls, towers and gates
Remains of the theatre
The Altar of Dionysus
The Temple of Apollo
Ruins of the Necropolis
---
Marmaris Boat Trips
Marmaris offers an abundance of daily boat trips / cruises to take you around the coves and mountainous shoreline. You will see ruins of ancient cities, a cave (the only entrance of which is from the sea), a stop at the beach of leafy Cennet Adası ("Paradise Island"), and towns such as Icmeler and Turunc.
Book or buy your ticket at least one day beforehand from one of the many boats (which have a capacity of 20 people) which can be found all along the waterfront near the Marina. You can easily recognize them by their boards and touts who will try to convince you to take 'their' tour, but basically all tours are the same.
Generally, a boat trip will cost about 25 TL per person and our trip included lunch, and all you can drink beer, wine and cocktails all day. This type of cruise is exceptional value!
Top Tip: A tour doing the Bay in an anti-clockwise fashion (i.e. Turunç first, Paradise Island last) may be worthwhile to look for, as most tours go around the Bay in a clockwise direction, and as such, you won't have to be with the hundreds of other tourists all doing the same sights at the same time.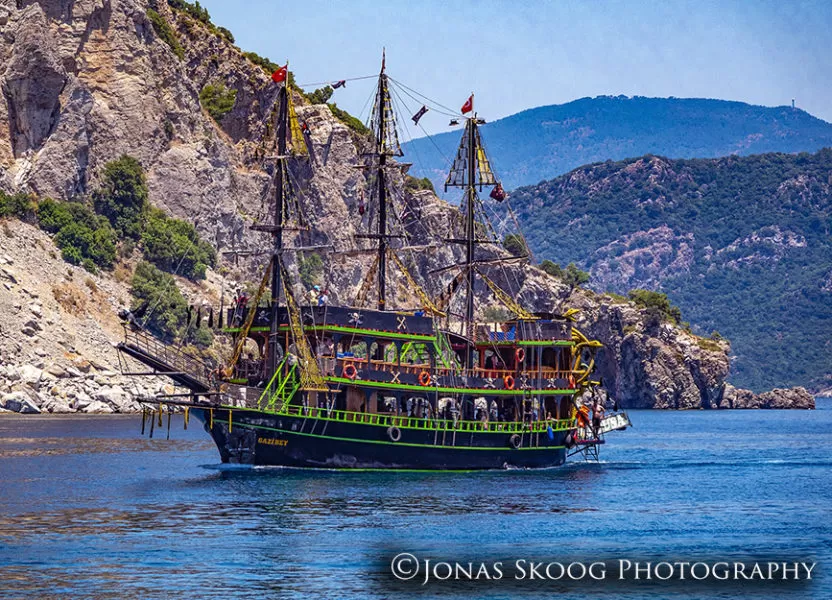 ---
Marmaris Shopping
Marmaris offers a wide variety of products for sale for tourists. The most popular shopping area for tourists is the Grand Bazaar selling the usual tourist fodder, as well as local specialities such as Turkish Delight, Turkish carpets, etc.
There are also markets in both the Armutalan area of Marmaris on a Thursday and the Icmeler market is every Wednesday. These local markets sell a range of products including, fruit, vegetables, cheese, olives, textiles, clothing, shoes, hand made goods, souvenirs etc.
READ MORE: MARKETS IN MARMARIS, TURKEY
---
Nightlife in Marmaris
Marmaris is famous for its fantastic nightlife. There are a selection of good bars and clubs along the beachfront near the Marina which play a wide variety of music and cater to different tastes. Also, there are some great 'Happy Hours' on offer early in the evening.
For those serious party animals, Bar Street is where the party is at. Located in the Old Town, this street has over 100 bars and clubs ranging from rock bars to huge outdoor nightclubs with foam parties. All are open until the wee hours of the morning.
N.B. When drinking in Bar Street, expect to pay much higher prices for your drinks (15-20TL for a spirit and mixer) than those along the beach front. On the upside though, entry to most clubs is free and there are periods when there are special drink offers available.
---
Eating in Marmaris
Restaurants are in abundance everywhere in Marmaris. There are many places on the beachfront main road, and in the side streets just off it serving Turkish, English, Dutch and other cuisines. We found the restaurants away from the harbour and marina were much cheaper for the same quality food, if not better.
If you are staying somewhere you can self-cater, visit the many supermarkets located in Marmaris such as Tansas, Migros, and Tesco Kipa. These are some of the larger supermarkets and sell a very good range of foods and other items, including international brands. Shopping in the local supermarkets are a great way to say money on simple items like bottles of water i.e. 3 TL for an 8 litre bottle.
---
Accommodation Options in Marmaris
There are multiple accommodation options in Marmaris catering for tourists ranging from all-inclusive to self-catering apartments. Lively hotels can generally be found in the Marmaris City Centre.
More laid back and family friendly hotels can be found in the Armutalan area at the back of Marmaris. The local council in this area has banned the playing of music after Midnight and has also banned live entertainment from bars, limiting it to hotels.
Prior to booking any accommodation, we recommend checking websites such as booking.com for reviews of your hotel. All-inclusive deals are good value but beware of bed and breakfast and half board, as hotels may restrict you bringing food or drinks into their premises making you dependent on their offerings which will be much more expensive than buying from a supermarket.
---
In Summary: Travel Guide to Marmaris Beach in Turkey
We stayed in Marmaris for 2 weeks and loved every minute of it. Everyday presented a new activity to experience or a new city to explore. We travelled at the end of May and the weather was perfect for sightseeing as it wasn't too hot, but certainly warm enough to enjoy swimming at the many beaches (the water was refreshingly cool). We love Turkish food and we were spoilt for choice, and the happy hours were enjoyed enormously. Overall, we had a wonderful holiday in Marmaris beach and we hope you enjoy it as much as we did!
Have you been to Marmaris? What was your favourite thing about this seaside town? Leave a comment below.
---
---
Disclosure: This post contains affiliate links. This means that if you click on our affiliates / advertisers links and make a purchase, we may receive a small commission, but at no extra cost to you. AND, many times, you will receive an offer. Win/win! The products and services we write about and mention are the ones we love. We only recommend items that we feel are of good quality and would be helpful to our readers. While we pay for our travels out of our own pockets, these small commissions do assist in keeping us on the road. Thank you!
---