10 Reasons Why You'll Love Sanur in Bali
Being Australian, we have holidayed in Bali many times, but Sanur in Bali is our favourite area to stay.
Sanur doesn't have the hustle and bustle of Kuta or Legian, but its relaxed laid-back atmosphere makes it an idyllic location for us. There is less traffic and traditional everyday Bali life mingles with modern day conveniences.
It is the perfect base for sightseeing day trips around Bali or to the islands. You can fill your days with as much or as little to do as you want, as well as enjoying a great variety of restaurants, plus bars with live music for those that want a little nightlife.
Read on to see the 10 reasons why we think Sanur in Bali is the best place to stay.
READ MORE: BEST AREAS TO STAY IN BALI

Planning Your Trip? Use Our Favourite Resources Below!
Accommodation – We recommend Booking.com
Flights – We recommend Skyscanner
Tours / Experiences – We recommend Viator
Car Rental – We recommend DiscoverCars
Travel Insurance – We recommend SafetyWing
---
---
Why You Will Love Staying in Sanur in Bali
1. Close to the Airport
Ngurah Rai or Denpasar International Airport is only 15 to 20 minutes away. This also makes Sanur a great place to stay before or after a flight if you are planning on doing more travel around the island.
---
2. Perfect for a Relaxing Holiday
Sanur is a low-key coastal town located in the south east of the island and is one of Bali's oldest tourist areas. This area is peaceful and quiet, so perfect for those of you wanting a relaxing holiday. Sanur is not known for its party scene so it doesn't attract the surfing and backpacking crowd. The tourists that stay in Sanur are attracted to the area because of the strong ties to traditional Balinese culture.
---
3. Central Location in Bali
Sanur is centrally located on the island of Bali making it easy to get anywhere. This makes it the perfect base to explore the island.
Kuta (south west) – 30 minutes
Seminyak (south west) – 45 minutes
Legian (south west) – 45 minutes
Ubud (north) – 45 minutes
Jimbaran (south west) – 1 hour
Nusa Dua (south west) – 1 hour
Candidasa (north east) – 1 hour
Canggu (south west) – 1.5 hours
Amed (north) – 3 hours
N.B. Travel times are dependent on traffic and the time of day.
Popular Day Trips from Sanur in Bali
Due to its location, it is also the perfect base for taking day trips to other parts of the island. So, for those that are looking for an adventure, or for those that are looking to explore further afield than Sanur, here are just a few suggestions of the most recommended tours:
The possibilities of how to explore Bali are virtually endless. Take a guided tour of Bali, rent a motorbike or car to explore entirely on your own, or join one of the many tours you can find on offer. Search Viator for a good selection of well-priced day tours.
---
4. Traditional Culture
Differing from the other tourist hotspots such as Kuta, Seminyak, and Canguu, Sanur has managed to retain its traditional Balinese heritage. Hindu culture is very strong in Sanur and you will see this daily as women walk to the temples to perform their daily rituals with a tower of offerings on their heads. Balinese tradition can also be seen when fisherman return to the shore with their daily catch in their brightly coloured fishing boats. This area is also well-known for the practice of black and white magic, and sorcery.
---
5. Dining Options
Sanur's restaurant scene has grown significantly so you will be spoilt for chose for dining and drinking options no matter your food preference or budget. Local warungs can be found everywhere and the entire beachfront promenade is lined with mid-range to more expensive restaurant options.
From 5am to 6pm, the Sindhu Market on Jalan Pungutan is busy with locals sourcing their daily necessities, ritual items and morning groceries. At approximately 6pm in the evening until 11pm, this market turns into the Sanur Night Market and food stall vendors serve traditional snacks and various Indonesian cuisines.
This the perfect place to try different local foods as local prices – perfect for the budget traveller.
---
6. Lots of Things To Do
Beaches and Watersports
Beaches line Sanur but locals and expats alike will tell you that Pantai Indah is by far the best beach in Sanur. Located right in the centre of Sanur, this beach is one of the cleanest and has soft golden sand and gets lovely sea breezes. The water here is sheltered from strong currents and has no waves due to the reef about 500 meters out to sea.
Sanur beaches also offer lots of watersports for those that are looking for a bit more action. Jet skiing is popular, and snorkelling can be done directly off the beach and it is a popular place for local spearfishermen.
As it is open to winds, it is also a popular place for kite surfing, windsurfing and paragliding. There are also some popular surf spots further off the coast when the swell picks up.
However, if you prefer to just relax and work on your tan, you can rent sun loungers under the shade of an umbrella for 100,000 IDR for 2 people.
---
The Promenade
Sanur beachfront has a paved 5km promenade that runs from Mertasari beach in the south to Sanur beach in the north, and is the ideal place to go for a long walk or jog. Bikes can be rented everywhere and is enjoyable way to work your way along the coast. The promenade is also the perfect spot to see the sunrise.
---
Scuba Diving
Sanur is a great place to base yourself if you want to go scuba diving or snorkelling at one of the nearby dive sites. There are many reputable and well established dive operators based in Sanur that offer trips to Padang Bai, Nusa Penida, or Tulumben's USS Liberty Wreck.
---
Le Mayeur Museum
The Museum Le Mayeur was once the home of a Belgian expat, Brussels artist Adrien-Jean Le Mayeur de Merpres. He lived in Bali until 1958 and after he died, his former house was turned into a museum showcasing his art and classic Balinese architecture.
---
Taman Festival
If you're looking for an interesting day out, visit the haunted theme park, Taman Festival. This theme park was created with the vision of giving Disneyland a run for its money. It briefly opened in 1997, but in less than a year, on Friday the 13th (no less), Taman Festival's $5 million dollar laser equipment at the Turbo Theatre, was struck by lightning. In that time of the Asian economic recession, no one could really afford to rebuild, take ownership or bear the losses. Since then, it has just remained a vast, abandoned piece of land.
READ MORE HERE: TAMAN FESTIVAL BALI – THE ABANDONED THEME PARK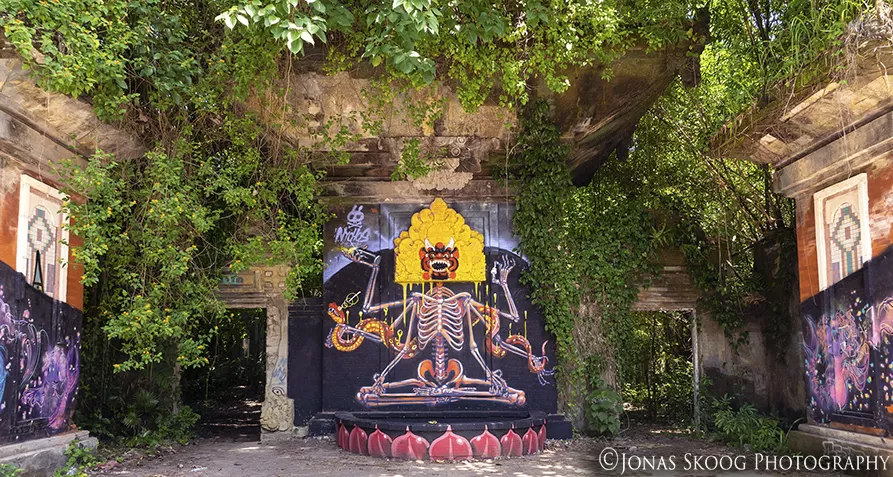 ---
Blanjong Temple
The Blanjong Temple is located in Intaran Village and houses one of the oldest relics in Balinese history. The Blanjong pillar is etched with Sanskrit inscription and is said to date back to the 10th Century.
---
Bali Orchid Garden
The Bali Orchid Garden is approximately 3 kms from Sanur and has a display of thousands of different types of orchids in a huge variety of colours. Your admission price includes a guided tour of the gardens and explanation about all the plant varieties on display.
---
Bali Kite Festival (June to September)
The event began as a seasonal festival intended to thank the Hindu Gods for providing abundant crops and harvests. The Bali Kite Festival now attracts many tourists and international kite fliers, along with many local spectators.
---
Sindhu Night Market
Sindhu or Sanur Night Market is the best way to get a feel for local life, and it's also a great place for cheap local eats and to grab yourself a souvenir.
---
Day Spas
No one does day spas like the Balinese! Indulge yourself in a massage, facial or body scrub in a peaceful and relaxing setting.
---
Yoga
Whether you're a dedicated yogi or a total beginner on the mat, Sanur is the perfect place to practice the art of yoga. From open-air classes to ocean-view shalas, you will find a class to suit every requirement and budget.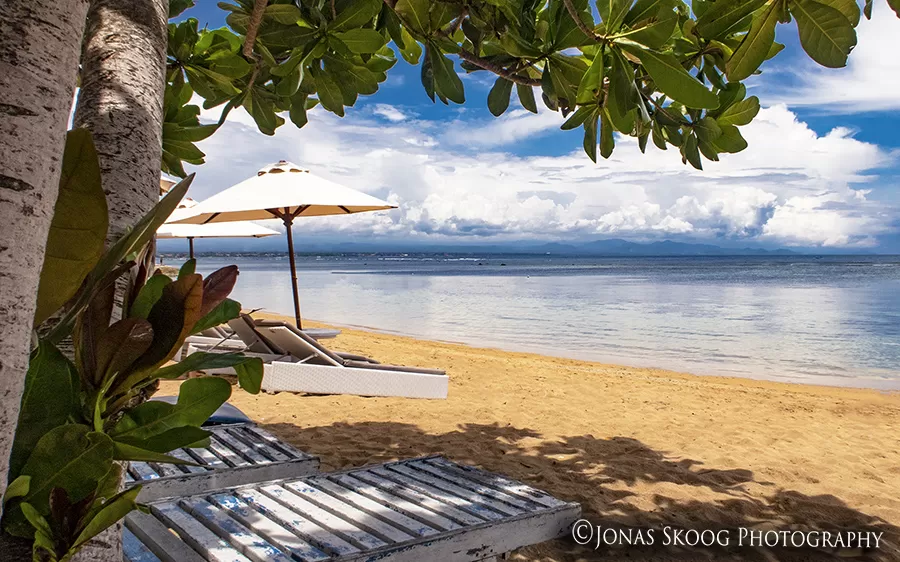 ---
7. Nightlife
Sanur isn't well-known for its nightlife but there are a few bars that stay open until late, and a small live-music scene. Linga Longa Bar has a resident band that plays from 8 pm till late, and Casablanca showcases a different band each evening.
---
8. Fast Boats to Neighbouring Islands
Sanur is known for its harbour for fast boats to nearby islands such as Nusa Lembongan, Nusa Penida, Lombok and Gili Trawangan, Gili Air, and Gili Meno.
---
9. Weather
Bali weather does alter in some areas, but the weather in Sanur is fairly consistent. The weather is warm all year round and the temperature doesn't change much from one season to the next (23 degrees to 30 degrees Celsius / 73 F to 86 F). The mild, dry season runs from April through October, and higher humidity and rain occurs more frequently during the winter months from late October until early March.
---
10. Easy to Get Around
Sanur is not very big so it is very easy to get around by walking or riding a bike. However, due to Sanur's size, taxis and local buses are plentiful and inexpensive. Here are some of the transport options available to help you get around:
Metered Taxis (we recommend Bluebird) – AUD$2.60 / USD$2 from one end of town to the other
Unmetered Hailed Taxis – you will need to negotiate the price
Grab / Uber App for taxis
Go Jek App for motorbike taxis and car taxis
Electric Bus – generally less than AUD$1.30 / USD$1
Rent a Scooter – recommended for experienced motorbike riders only
Hire a Driver – This is our preferred method of going sightseeing as we can make our own itinerary and stop anywhere of interest along the way. Hiring a driver for an all-day tour is around AUD$65 / USD$50.
​Organised Tour – convenient and easy way of seeing lots of must-see sights
Rent a Bicycle
---
In Summary: 10 Reasons Why You'll Love Sanur in Bali
Situated on the south-eastern side of Bali, Sanur is only 12 kilometers away from Kuta, and yet it still retains its traditional village feel. If you are looking for a relaxing beach holiday destination, Sanur really is the perfect choice for you.
Where do you normally stay in Bali and why? Leave a comment below.
---
TRIP PLANNERS FOR INDONESIA: RELATED BLOG POSTS
Want more info to help you plan your Indonesia trip? Check out all the articles we've written on travel in Indonesia below and continue planning your trip.
---