14 Best Things To Do in Siem Reap, Cambodia
Our list of the "14 Best Things To Do – Siem Reap, Cambodia" will show you there are many more things to do in this beautiful city than just visit its' Number 1 drawcard, Angkor Wat. As Cambodia's unofficial tourism capital, Siem Reap has a lot to offer in terms of history, culture, nature and adventure.
Take a cooking class to learn how to cook traditional Cambodian food, or visit a war museum to learn more about the Cambodian Civil War and the after effects relating to landmines. Enjoy great food and cheap drinks with a night out in Pub Street, or an evening of cultural dance with a traditional Apsara dance performance.
No matter what you like to do and are interested in, it is easy to spend a week or more exploring all of the attractions Siem Reap has to offer.
READ MORE: COST OF LIVING IN CAMBODIA: SIEM REAP
---
The most beautiful thing in Cambodia isn't the country – it's the Cambodian people.

– Rithy Panh –
---
Introduction to Siem Reap, Cambodia
Siem Reap is an area located in the northwest part of Cambodia. Once the seat of power for the great Khmer Empire, this location is home to the most ornate temples and as such, is the most popular tourist site for those taking a tour of Cambodia.
---
Map of Siem Reap
---
Best Things To Do – Siem Reap, Cambodia
1. Angkor Archaeological Park
The highlight of any trip to Siem Reap is the magnificent Angkor Archaeological Park. Angkor is considered to be one of the most important archaeological sites in South-East Asia. Stretching over 400km2, this site contains the remains of the different capitals of the Khmer Empire, from the 9th to the 15th Century. They include the Temple of Angkor Wat (the most famous), Angkor Thom, and the Bayon Temple with its countless sculptural decorations.
Most visitors are surprised to learn that there are dozens of temple complexes that can be visited within the park, and they often underestimate the amount of time needed to fully experience these historical sites. In addition, there are several stunning temples to be explored outside of the park.
Due to the above stated facts, we highly recommended either going on an organised tour or researching suggested itineraries thoroughly prior to buying your pass. This will ensure you get the best possible experience from your time there.
We also highly recommend paying for an English-speaking guide to walk with you explaining each temples history, purpose and must see sculptures / features. These guides can be found freelancing at the entrance to the temples.
We opted to buy the 7 Day Pass and tour the park over 4 days. This allowed us to capture amazing photos of the temples at both sunrise and sunset. Also, it can get extremely hot during the middle of the day and early afternoon, so this pass gave us the flexibility to avoid the hottest parts of the day and the crowds of tourists.
In our personal experience, Angkor Wat is one of those bucket list places that every human should experience before they die.
Visit Duration: 1 day minimum
Where: Taphul, Siem Reap
Hours: 5:00am – 6:00pm, Everyday
Cost: 1 Day Pass – USD$37, 3 Day Pass – USD$62, 7 Day Pass – USD$72 (Always carry your ticket as it will be checked upon each park entry and at major temples)
Tip: Dress appropriately i.e. good, sturdy shoes, long pants covering the knee and shirts that cover the shoulders when visiting the temples.
---
2. Angkor National Museum
To understand the Angkor Wat complex and surrounding temples, we would recommend visiting the Angkor National Museum first. This archaeological museum is dedicated to the collection, preservation and presentation of AngKorian artefacts. It also provides information and education about art and culture of the Khmer civilization, with collections mainly dated from Khmer Empire's Angkor period circa 9th to 14th Century. Most of the artefacts have been discovered in and around the Angkor archaeological sites nearby.
Displays are themed by era, religion and royalty as visitors move through 10 impressive galleries.
The Gallery of 1000 Buddha Images – the most prestigious collections of Buddha statues ever assembled.
Gallery A Khmer Civilisation – how the Khmer Empire was established, people's faith and their stories
Gallery B Religion & Beliefs – beliefs that styled peoples living, literary works, sculptures and architecture, myths and folk tales
Gallery C The Great Khmer Kings – 4 Khmer Kings and their stories
Gallery D Angkor Wat – learn how it was constructed
Gallery E Angkor Thom – learn about ancient engineering plans and its relation to the symbolic story of the churning of the ocean of milk (the immortal city)
Gallery F – Story from Stones – stone inscriptions, beliefs and legends of the ancient Khmer empire
Gallery G Ancient Costume – Apsara (celestial dancers)
Some of the standout pieces in the collection include a late 12th /early 13th Century seated Buddha sheltered by a naga (mythical serpent-being); a 7th Century standing Vishnu from Sambor Prei Kuk in Kompong Thom; and a stunning 10th Century lintel from the beautiful temple of Banteay Srei.
Visit Duration: 2 – 3 hours
Where: 968 Vithei Charles de Gaulle, Phoum Salakanseng, Khom Sveydangum, Siem Reap District
Hours: 8:30am – 6:00pm, Everyday, April to September, 8:30am – 6:30pm, Everyday, October to March
Cost: Adult USD$12, Children USD$6 (Audio USD$5 per person)
Tip: The museum is air-conditioned so plan a visit during the middle of the day to avoid the midday heat at the temples of Angkor.
---
3. The Old Market
Locally known as "Psar Chaa" and located in the heart of the city, the Old Market was built in the 1920's and it is where the locals buy their fresh produce, grains and meat. The market is open to everyone and divided into small sections selling different goods i.e. clothes, handicrafts, dried seafood, meat and fruits. It is the perfect pace to buy some Khmer souvenirs and take back home for gifts for your family and friends. Psar Chaas' greatest attraction lies in the glimpse of real Cambodia it offers.
Visit Duration: 1 – 2 hours
Where: Old Market Street, Siem Reap
Hours: Open 24 hours
Cost: Free
Tip: Visit the market around 7 – 8 am to get a real insight into everyday life in Siem Reap.
---
4. Siem Reap Night Market
Eat street food, grab a drink and take a walk through the stalls at Cambodia's first night market. With around 240 shops, it is the biggest and most interesting night market to see. The huts selling goods are of a traditional Khmer style and are built from natural materials like bamboo. There are loads to choose from including clothing, silk, paintings, spices and jewellery. A modest food court offers Cambodian, Western and Asian specialties. Excellent English is spoken here.
Visit Duration: 2 – 3 hours
Where: Sivatha Road, Krong, Siem Reap
Hours: 5:00pm – 12:00am, Everyday
Cost: Free
Tip: Great place to pick up souvenirs.
---
5. Pub Street
With so much culture, history, and ancient architecture to take in during the day, you might want to enjoy your evening in Pub Street. It should be more accurately known as "Food Street" as there are only two bars to be found: The Angkor What? Bar and Temple Club. That said, in the alleys and streets running both parallel and perpendicular to Pub Street you can not only find more restaurants, but many bars as well. Drinking until the wee hours of the morning remains the norm here.
From 5pm onwards, the street gets closed off to traffic, and is filled with neon lights, bars touting bucket drink specials, street performers and a lot of fun is to be had by everyone.
Whilst definitely a great place for drinking alcohol, you might consider that by and large, the best food options are 'not' found here. Further up Sivatha Road and over on Wat Bo Road there is less congestion and less price competition, and this is where you will find some excellent food options.
Visit Duration: 2 – ? hours
Where: Street 08, Siem Reap
Hours: 24 Hours, Everyday
Cost: Free Entry
Tip: Happy hour promotions are in abundance around Pub Street and usually start about 4pm and go until 7pm.
---
6. Cambodia Landmine Museum
Even though three decades have passed since both the Vietnam War and the Khmer Rouge regime, life-threatening reminders still remain hidden in the fields of Cambodia; an estimated 4 – 6 million reminders to be exact. Former child soldier, Aki Ra, founded the Cambodia Landmine Museum after he returned to the villages where he had planted thousands of mines as a soldier. Aki cleared thousands of mines by hand, defusing them with homemade tools before adopting safer methods.
The collection includes mines, mortars, guns and weaponry, and there is a mock minefield where visitors can attempt to locate the deactivated mines. Proceeds from the museum are ploughed into mine-awareness campaigns.
The museum is a sad but important place to witness how landmines have affected millions of Cambodians, especially children.
Visit Duration: 1 – 2 hours
Where: 67, Phumi Khna, Siem Reap
Hours: 7:30am to 5:30pm, Everyday
Cost: USD$5
Tip: Visit this museum in conjunction with a visit to Banteay Srey Temple and the Banteay Srey Butterfly Centre.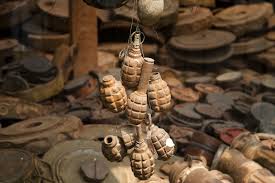 ---
7. Banteay Srey Butterfly Centre
Banteay Srey Butterfly Centre is a butterfly zoo near Siem Reap, Cambodia. Founded in 2009, it is the largest enclosed butterfly centre in Southeast Asia.
This is a must for butterfly enthusiasts, nature lovers, and especially, families with kids. This butterfly sanctuary and conservation centre is a great way to get up close and personal with these beautiful insects.
Walk around the netted tropical garden with thousands of free flying butterflies, all of which are native species to Cambodia. The enclosed garden is built like a rainforest to mimic the butterflies' natural habitat. If you sit still long enough, you are sure to have a butterfly land on you for a little rest.
You can take an educational tour with a guide who will show the various stages of the butterfly lifecycle.
Visit Duration: 1 – 2 hours
Where: Banteay Srey, Siem Reap
Hours: 9:00am to 4:30pm, Everyday
Cost: Adults USD$4, Children USD$2
Tip: Visit this museum in conjunction with a visit to Banteay Srey Temple and the Cambodia Landmine Museum.
---
8. APOP Visitor Centre
The APOP Visitor Centre is an educational facility allowing visitors to experience the realities of humanitarian demining and how they train rats to save lives.
The rats are trained to use their highly developed sense of smell to sniff out explosives up to one meter below ground. Being lightweight, they can criss-cross section after section of land much more effectively than conventional methods. One rat can clear a tennis court-sized area in half an hour; the same area would take up to four days for a human using a metal detector.
The HeroRATs, as they are officially called, greatly reduce costs and increase the speed of landmine detection. So far, the rats have not missed one single landmine, and we were also happy to learn that not one of them has been injured while carrying out this brave task.
The 45 minute tour includes a video, some visuals and a live demonstration so you can see how the rats are trained and the great work they are accomplishing.
Visit Duration: 1 hour approximately
Where: Koumai Road, Trapeang Ses Village, Kouk Chauk Commune, Siem Reap
Hours: 8:30am to 5:30pm, Monday to Saturday
Cost: USD$5 per person
Tip: The APOPO Visitor Centre is in a small village next to Wat Thmei so plan to visit on the way to or from Angkor Wat.
---
9. Cambodian Cooking Class
Try a Siem Reap cooking class and become entranced by the many dishes on offer, and Cambodia's unique style of cooking. With proper instruction from trained chefs and all materials provided, a Siem Reap cooking class is an ideal thing to put on your Siem Reap itinerary.
Several Siem Reap cooking classes can be found around town. In general, the classes are kept small and while the chef will teach you cooking techniques and ingredient usage, you'll do the actual cooking. Over a half a day, you'll be taught the secrets to traditional Khmer cuisine and cook a 3 course gourmet meal. You'll make appetizers like spring rolls with chicken, main dishes such as Amok curry or stir fried chicken and noodles, and for dessert you'll have pumpkin in coconut cream. When the cooking is finished, sit down to enjoy the fruits of your labour.
---
10. Apsara Dance Performance
Cambodia is a country that is steeped in history and tradition, with classical Cambodian ballet, or Apsara (beautiful girls) dancing, held in high esteem across the country. Traditionally, the Apsara Dance was only held for royalty. Evidence of this delicate form of dancing can be seen etched into the walls of ancient temples, as well as when watching the string of talented dancers who put on shows across the country today.
There are several venues in Siem Reap where you can attend a traditional Apsara dance performance. Usually these shows are offered as a package combining a (buffet) dinner and a dance spectacle.
A traditional Apsara dance usually depicts a story about the Cambodian daily life or an historic event. Most of the dances find their origin in the 18th to 20th Century, since a lot of the royals of the Angkor period supported this art of dancing.
There are four types of traditional Apsara dancing:
Classical Dance – known for the arched backs, feet and hands
Folk Dance – usually performed during celebrations and holidays
Shadow Puppet Theatre – performed during the Water Festival
Lakhon Khol – a masque dance theatre, depicting stories of the Reamker
The show lasts for over an hour and the incredible costumes, dancers and lighting make the ticket worthwhile. A true one of a kind experience that you can only have in Siem Reap.
Visit Duration: 1 – 2 hours
Where: Apsara Theatre, Koulen Restaurant, Park Hyatt Siem Reap, Raffles Grand Hotel d'Angkor, Temple Balcony, Smile of Angkor
Hours: Generally between 7:30pm – 9:30pm
Tip: Make early reservations if you would like seats near the front of the theatre.
---
11. Visit the Floating Villages on Tonle Sap Lake
The Great Lake – Tonle Sap Lake is located only 15 km south of Siem Reap and is recognized for its richness in both nature and local culture. It is the largest freshwater lake in South-East Asia. The lake offers the visitors a wonderful opportunity to see a different side of the Siem Reap.
It is home to three fishing villages: Chong Khneas, Kampong Phluk and Kampong Khleang.
As a part of the ecosystem, the humans form a distinctive way of life accordingly to the lake's characteristics: floating stilt houses, fishing boats, and an economy deeply intertwined with the lake and the wildlife here. One interesting fact about the Tonle Sap Lake's population is that when the water level goes down the people have to move their houses, schools, shops, and church to places with a higher water level.
Chong Khneas is the most famous floating village and the busiest due to its proximity to Siem Reap. It is about 16 kms from Siem Reap's city centre and takes about 45 minutes to get here. Youwillexplore the difference between the Khmer, Muslim and Vietnamese floating households and the floating markets, fisheries, clinics, schools, basketball court and pigsty.
The floating village of Kampong Phluk is larger and consists of 3 smaller villages, however, it is the least visited floating village and hence, not as commercial as Chong Khneas. It is 32 kms from Siem Reap and takes about an hour to get here. The buildings in Kampong Phluk rise as high as 10 metres from the ground to avoid lake-swell during the wet season. Tonle Sap Lake can expand to over 7400 m2 during the wet months of June to December, with waters reaching depths of 10 to 40 metres. The fluctuation between the seasons is quite dramatic and the water subsides to around 1 to 3metres during the dry months of December to July.
Kampong Khleang is the largest of the floating villages in terms of inhabitants. It is 51 kms away from Siem Reap, and being the farthest, it takes over an hour to get here. As a result, it is the least visited of all the villages. The best thing about this floating village is that all the tour boats are owned by the locals. Therefore, all the sales generated from Kampong Khleang tours directly benefits the village.
N.B. Our research on which of the floating villages to visit showed that Chong Khneas was nothing but a tourist trap. Unfortunately, all profit made through tours goes to the private boat company while the village benefits with little to nothing from the tours.
Where: Tonle Sap Lake, Krong, Krong Siem Reap
Tip: Visit in the wet season May to October when forests are flooded and floating villages of Tonle Sap Lake comeback and the green colour returns.
---
12. Phare Circus
Phare is Siem Reap's Cambodian Circus, and it's famous around the world. It's a small and intimate performance, but it's one of the best circuses you'll ever visit. There's everything you could hope for from a circus, from gymnastics, to comedy, to death defying stunts. And each performance tells a different story, which is usually based around a Cambodian folk tale.
There are 6 different performances and storylines, so if you want to pick a certain storyline it's worth checking out the 'our shows' section of their website.
Phare Circus Rising – the artists and musicians share what has kept them going during the pandemic: how they cope, reach their potential, restore hope and optimism, and express their joy of being on stage and putting smiles on faces.
Stronger Together – the artists discover unity between mankind and nature during the pandemic and that we're all stronger together.
Eclipse – a story of rejection, revenge and forgiveness.
Kampuchea, Wow! – the diversity of culture, arts, ethnicity, things to do, to see, to eat, to experience, natural and human resources of Cambodia.
Same Same but Different – Phare artists share their unique take on cultural differences, poking good-natured fun at themselves and others.
White Gold – in the Khmer language, "nourishment" cannot be expresses without the word "rice". Cambodians are born, live, work and die in the rice fields. Balance between Buddhist principles of moderation and demands of modern society.
However, it's not just the performance itself that makes Phare worth the visit. The story behind the circus is that it was created by two men who returned to Cambodia after spending time as refugees during the Khmer Rouge. They set up the circus to provide opportunities to those from disadvantaged backgrounds. So young people from vulnerable households can join the circus, master the arts and receive an education. It's a great way to give back to the Cambodian community.
Visit Duration: 2 – 3 hours
Where: Intersection of Ring Road and Sok San Road South of intersection with Sok San Road, Siem Reap
Hours: Open from 5:00pm for pre-show entertainment and Cambodian street food
Cost: Open Seating from USD$10, Reserved seating from USD$20, Season Pass Including Unlimited Visits USD$60
Tip: Check their website for performance dates and times.
---
13. Phnom Kulen National Park
Phnom Kulen is one of Cambodia's most beautiful national parks, and there's plenty to see and do there. It is quite a way out of the city (48kms or 1.5-2 hours by car), but it's definitely worth it. You can hike up the mountain, and visit the temple at the top, or you can join the locals and go for a swim in the waterfall.
The best way to visit Phnom Kulen is on a group tour, as you'll have your admission fees, transport and lunch included.
Visit Duration: 2 – 4 hours
Where: Phnom Kulen National Park, Siem Reap
Hours: Only possible to go up Phnom Kulen before 11am and only possible to come down after midday, to avoid vehicles meeting on the narrow road.
Cost: USD$20 per person entrance fee
Tip: The entrance fee is different from the standard Angkor Archaeological Park pass.
---
14. Fish Spa Pedicure
After a long day of walking around the temples, head over to the centre of town and look for the clear aquariums full of fish with cosy chairs attached. Treat your feet to the strangest pedicure of your life.
Place your feet in the fish tank and watch as the fish rush to nibble on dead skin from your feet and toes. Now relax, and resist the temptation to laugh out loud due to the ticklish sensation. After 20 minutes, your feet will be dead skin free, smooth and soft.
Visit Duration: 20 – 30 minutes
Where: In all the side streets around Pub Street
Hours: All day, Everyday
---
In Summary: 14 Best Things To Do in Siem Reap, Cambodia
We spent nearly 3 weeks in the city, and at no time did we feel there was not enough to do. In fact, there are still places on our list we didn't get to. We loved Siem Reap and its laidback vibe, and we will definitely be back!
Have you been to Siem Reap? Are you planning a trip and looking for things to do in to Siem Reap? Post your tips and questions below.
---
TRIP PLANNERS FOR CAMBODIA: RELATED BLOG POSTS
Want more info to help you plan your Cambodia trip? Check out all the articles we've written on travel in Cambodia below and continue planning your trip.
---