26 Things To Do on the Sunshine Coast, Australia
Our base during lock down in Australia has been the Sunshine Coast, so as a result, here is our list of "26 Things To Do on the Sunshine Coast, Australia".
During Covid, when we are unable to live our normal life of travelling fulltime, we spent our time actively exploring our own backyard and have been surprised at the vast number of amazing things to do in this area.
You can take a cooking class to learn how to cook authentic Thai food, discover the Sunshine Coast Hinterland towns, or visit one of the many outstanding sandy beaches. Hike to a summit, or bathe in a refreshing waterfall in the hinterland. Enjoy fresh local seafood or sample your way around a local farmer's market. The choices are endless!
Many international travellers have heard of the Gold Coast, but the Sunshine Coast is also definitely worth a visit.
No matter what you like to do and are interested in, it is easy to spend a week or more exploring all of the attractions the Sunshine Coast has to offer.
"Sunshine Coast – everything you could want in a holiday destination."

– Sunshine Coast Tourism –
---
---
Introduction to the Sunshine Coast, Australia
The Sunshine Coast is a coastal region of Australia located in South East Queensland. It is 100 kilometres or an hour's drive north of the Queensland capital of Brisbane.
---
Map of the Sunshine Coast
Things To Do on the Sunshine Coast Australia
1. Australia Zoo
Australia Zoo in Beerwah is world renown due to Steve Irwin, The Crocodile Hunter. Since his death, his wife Terri and children Bindi and Robert, have continued his work turning Australia Zoo into a world-class attraction with a strong emphasis on conservation and education.
The park offers a range of opportunities for animal encounters including a tiger walk, hand-feeding kangaroos, cuddling a koala, feeding an otter, or walking with wombats. You can also take a sneak peek inside the zoo's wildlife hospital.
We always really enjoy the crocodile and bird show in the Crocoseum so plan your day around show times accordingly.
Visit Duration: 1 day
Where: 1638 Steve Irwin Way, Beerwah, Queensland
Hours: 9:00am – 5:00pm, Everyday
Cost: Child (3-14 years) is AUD$35, Adult is AUD$59
Tip: To avoid the majority of the crowds, catch the shuttle to the furthermost stop in the park "Africa" and work your way back through the park from there throughout the day as most people start their day at the entrance walking towards 'Africa'.
READ MORE: A DETAILED GUIDE FOR VISITING AUSTRALIA ZOO
---
2. Buderim Forest Park
Just a short distance away from the town of Buderim, this 45 hectare park is definitely worth a visit. From the main carpark, you will walk through the sub-tropical rainforest along a raised walkway until you reach Buderim Falls (also known as Serenity Falls).
Take a swim in the refreshing rock pools, and then get the best views of the waterfalls and rock pools below from Serenity Bridge.
Visit Duration: 2 hours
Where: Quorn Close, Buderim
Hours: 8:00am – 6:00pm, Everyday
Cost: Free
Tip: Best viewed after rain when Martins Creek is running.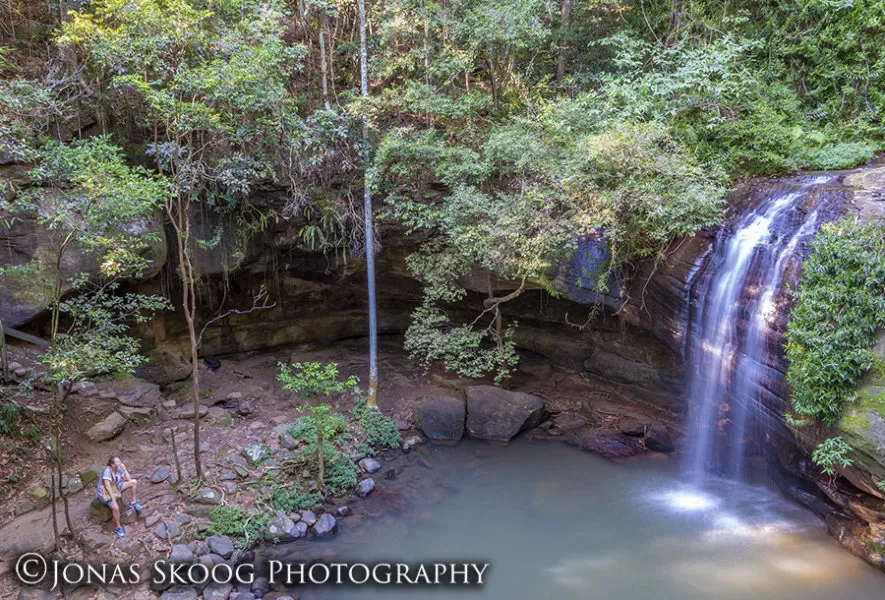 ---
3. Bulcock Beach
This popular beach in Caloundra offers something for everyone. Enjoy a BBQ or picnic in Happy Valley Park, swim in the crystal clear waters, or paddle in the small, warm pools at low-tide.
Take a walk or bike ride along the boardwalk which snakes its way along the coastline and offers views of Pumicestone Passage, and Bribie Island. The area is also great for surfing and fishing.
Visit Duration: 1 hour to 1 day
Where: Bulcock Beach, Caloundra
Hours: All Day, Everyday
Cost: Free
Tip: The Caloundra Street Fair Markets are held every Sunday and are the perfect place for a stroll, sample the food on offering and pick up a treat for yourself or a loved one.
---
4. Coolum Beach
Coolum Beach is a laidback coastal town known for its consistent waves for surfing. There is a beautiful coastal boardwalk and the beach street features a shopping area with lots of shops, cafes and restaurants.
Visit Duration: 1 hour to 1 day
Where: Coolum Beach, Coolum
Hours: All Day, Everyday
Cost: Free
Tip: Hike the 800 metre track (allow 90 minutes return) to the summit of Mount Coolum for panoramic views of the Sunshine Coast.
---
5. Eumundi Markets
If you love markets, you cannot miss the Original Eumundi Markets. These are said to be the biggest and best arts and crafts markets in all of Australia.
The large number of stalls offer lots of unique and quality products such as locally produced art, designer clothing, jewellery, leather goods, natural therapies, furniture, and homewares.
Food and drink stalls are plentiful showcasing artisan foods and organic produce. Enjoy breakfast or lunch at one of the many food outlets selling everything from German bratwurst hotdogs to authentic Turkish gözleme.
And street performers and live musicians wander around the markets keeping everyone entertained.
Visit Duration: 3 to 4 hours
Where: 80 Memorial Drive, Eumundi
Hours: 8:00am – 2:00pm Wednesday; 7:00am – 2:00pm Saturday
Cost: Free
Tip: Go there with an appetite so you can really enjoy the delicious food stalls.
---
6. Glass House Mountains National Park
This group of 13 volcanic peaks, formed 25 to 27 million years ago, is listed on the National Heritage Register as a landscape of national significance, and as such, it has become increasingly popular with nature lovers and hikers.
A visit to the Glass House Mountains Visitor and Interpretative Centre is a good first stop prior to exploring the area further.
The only two peaks open to the public for hiking are Mount Ngungun (253 metres) and Mount Tibrogargan (364 metres). They offer trails catering to all abilities and fitness levels, from easy base trails to more challenging summit hikes with amazing coastal views.
Plan your hike from mid-morning to late afternoon, but don't go too late to ensure you aren't climbing down in the dark.
Visit Duration: 3 to 5 hours
Where: Glass House Interpretative Centre, Settler's Rotary Park, Reed Street, Glass House Mountains
Hours: 5:00am – 6:00pm, Everyday
Cost:
Tip: Enjoy some of the best views and photos of the Glass House Mountains from Mountain View Road and Glass House Mountain Tourist Drive in Maleny.
---
7. Kenilworth
Kenilworth is a small charming town in the upper Mary Valley area of the Sunshine Coast. It features the rolling hills of the Conondale and Blackall Ranges, and lush, green countryside. In the main street you will have the opportunity to sample and buy cheeses from the Kenilworth Country Food and Cheese Factory, or head to the Kenilworth Bakery made famous for its 1KG doughnut challenge.
Visit Duration: 2 to 3 hours
Where: Kenilworth
Hours: All Day, Everyday
Cost: Free
---
8. Kings Beach
Kings Beach is the most popular and easily accessible beach in Caloundra, offering all the usual water sports adventures such as surfing and swimming. The beach itself has plenty of sand to spread out on and it slopes gradually into the ocean.
If the surf is a bit rough, there is a 25 metre tidal saltwater swimming pool (opens 4:30 am to 9:00 pm) and is the perfect spot to enjoy some laps or a refreshing swim.
Visit Duration: 1 hour to 1 day
Where: Kings Beach, Caloundra
Hours: All Day, Everyday
Cost: Free
---
9. Kondalilla Falls
The best way to experience Kondalilla Falls is by walking the 4 kilometre Kondalilla Falls Circuit.
You will follow the Picnic Creek circuit walking through rainforest and open forest, past a rock pool at the top of the falls, and then down the valley to a lookout with the best views of the falls. Continue to walk through rainforest to the base of the waterfall and then continue back up the ridge.
There are over 300 stairs on the Kondalilla Falls Circuit so you need to be reasonably fit and allow enough time to enjoy this steep walk.
Visit Duration: 2 to 3 hours
Where: Kondalilla Falls Road, Flaxton
Hours: Everyday
Cost: Free
Tip: Leave enough time to complete your walk in daylight hours.
---
10. Maleny Botanic Gardens and Bird World
Set on 110 acres, Maleny Botanic Gardens and Bird World overlooks the Glass House Mountains and is surrounded by magnificent rainforest.
These privately owned gardens feature layered and terraced gardens interspersed with a multitude of stunning waterfalls and lakes. Trails meander throughout the lush and expansive gardens and you will see various plants including roses, azaleas, camellias, desert species, and orchids.
Bird World is home to a variety of 700 exotic and Australian varieties of birds from over 60 countries. These are experienced by four walk-through aviaries where you can have your picture taken.
Whether you are an avid botanist, a nature-lover or simply cherish the peace and tranquillity of beautiful gardens and rolling landscapes, a visit to Maleny Botanic Gardens and Bird World is the perfect day out.
Visit Duration: 3 to 4 hours
Where: 233 Maleny Stanley River Road, Maleny
Hours: 9:00am – 4:30pm, Everyday
Cost: Child (3-14 years) AUD$15, Adult AUD$37
---
11. Mary Cairncross Scenic Reserve
Comprised of 55 hectares of subtropical rainforest, Mary Cairncross Scenic Reserve has the remnants of rainforest that once covered the Blackall Range.
A modern, multimillion-dollar Rainforest Discovery Centre with multisensory, interactive educational displays has recently been built to introduce you to the delicate rainforest ecosystem.
The 2 kilometre easy walking loop track takes you through rainforest boasting more than 300 known flora species, different types of fungi, reptiles, birds, amphibians and invertebrates. Keep an eye open for Red-Legged Pademelons on the track and in the bush near the edge.
You will get incredible views back over the Glass House Mountains National Park form the Glass House Mountain Viewing Deck.
Visit Duration: 3 to 4 hours
Where: 148 Mountain View Rd, Maleny
Hours: 7:00am – 6:00pm (Rainforest Walk); 9:30am – 3:30pm (Rainforest Discovery Centre and Glass House Mountain Viewing Deck), Everyday
Cost: Gold Coin Donation Welcomed
Tip: Best time of day to go is early to mid-morning when there are less people and the birds are most active.
---
12. Mooloolaba Beach
Mooloolaba Beach is extremely popular with tourists and is more developed than other Sunshine Coast beaches. The Esplanade offers lots of opportunities for shopping and dining and has many boutiques, galleries, bars, cafes and restaurants.
The beach is known as being one of the safest on the Sunshine Coast and is great for surfing, swimming, and sunbaking.
There is walkway that snakes all the way along the beachfront ending at Mooloolaba Spit where you can find calmer waters in this sheltered bay.
Visit Duration: 1 hour to 1 day
Where: Mooloolaba
Hours: All Day, Everyday
Cost: Free
---
13. Mooloolaba Seafood Lunch Cruise
One of the best ways to see the Minyama waterfront mansions along Millionaires row is by cruising through the canals on a lunch cruise. You will also head out to the river mouth to enjoy picturesque views of the bay of Mooloolaba.
This 90 minute cruise also includes a seafood lunch of freshly caught Mooloolaba prawns, calamari and chips, or fish and chips.
Visit Duration: 90 minutes
Where: The Wharf, Mooloolaba
Hours: 11:00am and 1:00pm, Tuesday to Sunday
Cost: Child (4-14 years) – AUD$29; Adult – AUD$49
---
14. Mount Coolum
Enjoy a steep trek of 800 metres to the summit of one of the Sunshine Coast's ancient volcanic domes. Created about 26 million years ago, Mount Coolum is a laccolith, formed when a dome-shaped bulge of magma cooled below the Earth's surface.

Once you reach the summit, you will be rewarded with spectacular 360° views of the coastline that extend from Moreton Island to Double Island Point, the cane fields and wetlands encompassing the Maroochy River Valley, the Glass House Mountains and the Blackhall Range to the west.
Visit Duration: 1 to 2 hours
Where: Tanh Street East and Jarnahill Drive
Hours: All Day, Everyday
Cost: Free
Tip: The best time to climb Mount Coolum is in the early morning or late afternoon. These are the parts of the day when it is a bit cooler and you'll be able to enjoy a glorious sunrise or sunset.
---
15. Noosa Farmer's Market
Nestled under the shade of the gum trees, the Noosa Farmers Markets happen every Sunday. The market is packed with locally produced seasonal produce such as seafood straight from the ocean, bread and pastries, cheeses, herbs, olives, nuts, seeds, jams, marinades, and sauces.
There's an endless amount of shopping opportunities here and you definitely won't be leaving without a full stomach or something for later.
Visit Duration: approximately 2 hours
Where: 155 Weyba Road, Noosaville
Hours: 6:00am – 12:00pm, Sunday
Cost: Free
---
16. Noosa Beach and Hastings Street
Noosa Beach is extremely popular with locals and tourist alike due to its soft white sand, crystal clear water, and rolling surf break. The gentle and safe surf makes it a popular hangout for families and beginner surfers, and it's a lovely spot for a swim, with beautiful views of Noosa National Park at the eastern end of the beach.
The main shopping street in Noosa is Hastings Street, and it is lined with upscale day spas, boutiques, art galleries, gift shops, surf stores and restaurants.
When the sun goes down, Hastings Street glows with fairy lights and becomes a sophisticated, smart-casual nightspot.
Visit Duration: 1 day
Where: Hastings Street, Noosa
Hours: All Day, Everyday
Cost: Free
---
17. Noosa National Park
We love Noosa for the fact the National Park is within an easy walking distance of Hastings Street and Noosa Beach.
The most popular section of the park is the Noosa Headland section, with 15 kilometres of hiking trails, including the scenic Coastal Walk that offers a great introduction to the park for first-time visitors.
The Coastal Walk is 5.4 kilometres each way and will take you past spectacular sea views framed by eucalyptus, banksia, and pandanus trees. You will reach Boiling Pot where you can see the water 'boiling' around the rocks as the waves go in and out From there, continue on to Tea Tree Bay, one of the park's most scenic beaches where you may see koalas in the treetops.
After about a kilometre, a lookout at Dolphin Point offers beautiful coastal views and you may even get to see passing dolphins and whales during whale season. If you continue on, Hell's Gates offers sweeping views over Alexandria Bay.
A little further on and you will reach the end of the Coastal Walk at Sunshine Beach. From here, you can walk the 5.4km back or catch a bus back to Noosa.
Visit Duration: 4 hours minimum
Where: Palm Grove Circuit, Noosa Heads
Hours: All Day, Everyday
Cost: Free
---
18. Pick Your Own Strawberries
Strawberry Fields is a working strawberry farm just off the Bruce Highway. Run by the Carmichael Family, this strawberry farm has been open to the public since 1980.
A long time popular destination on the Sunshine Coast for both locals and tourists, visitors are encouraged to enjoy a true farm experience and pick their own juicy strawberries straight from the strawberry patch. The picking season is open between June and November, but it is best to check their website for exact dates.
Not only can you pick your own strawberries, but an on-site café offers yummy strawberry treats including amazing homemade strawberry ice cream.
Visit Duration: 2 hours
Where: 133 Laxton Road, Palmview
Hours: 8:00am – 4:00pm, Every day in Strawberry Picking Season (June to November)
Cost: Weigh and Pay – $20 per Kilogram
Tip: For the freshest strawberries, pick your own rather than purchase the pre-picked strawberries.
---
19. Point Cartwright
At the very northern end of Kawana Beach, this headland overlooks the Pacific Ocean, Mooloolaba beach and all the way along the coast to Mount Coolum and the northern beached of the Sunshine.
Point Cartwright is a great place for a walk, or a picnic lunch or early dinner on the grassy slopes with beautiful coastal views. On the top of the hill there is an active lighthouse and from here it is often possible to spot humpback whales and turtles.
Follow the walking path down to the base of the headland which will take you to the point where the Mooloolaba River enters the ocean. The rock wall is a popular fishing spot and offers great views of the point break at the base of the headland which is always heaving with surfers.
Visit Duration: 2 hours +
Where: 1 Pacific Boulevard, Point Cartwright
Hours: All Day, Everyday
Cost: Free
Tip: Watch the sunset behind Mooloolaba from the top of the cliffs.
---
20. Sea Life Sunshine Coast Aquarium
Sea Life is a multi-award winning tourist attraction and offers guest the opportunity to discover the weird and wonderful world of over 10,000 sea creatures including sharks, stingrays, jellyfish, tropical reef fish and seahorses.
The aquarium is organised around eleven themed zones with related exhibits including Jellyfish Kingdom, Seahorse Sanctuary, and the Billabong. The Tidal Touchpool is where you can get your hands wet and interact with an array of marine life than can be found in local tidal pools such as sea stars and sea cucumbers. The 80 metre long Ocean Tunnel is one of the highlights of Sea Life. Walk through the tunnel and watch as stingrays, reef fish and sharks glide all around you.
Other exhibits include a colony of Little Blue Penguins and Seal Island which has a daily show showcasing Australian fur seals and Australian sea lions.
Visit Duration: 4 – 6 hours
Where: Parkyn Parade, Moolooaba
Hours: 9:00am – 3:00pm, Thursday to Sunday
Cost: Child (3-14 years) – AUD$31; Adult – AUD$44
Tip: Weekdays – 20% Off, Weekday Afternoons – 30% Off (Must buy these tickets in advance).
---
21. Spirit House Restaurant and Cooking School
Spirit House is the Sunshine Coast's most awarded Asian / Thai restaurant and cooking school.
Set in a lush tropical garden and built over a tranquil pond with ducks and lily pads, this magical restaurant is an unforgettable awakening of the senses. A memorable dining experience of modern Southeast Asian flavours is guaranteed at this Chef Hat-awarded restaurant.
Learn tips and tricks of Asian cooking by signing up for a cooking class. Choose from the many classes on offer and learn to cook amazing authentic Thai food such as:
Lemongrass & Coconut Soup with Tea Smoked Salmon & Oyster Mushrooms
Whole Crispy Fish with Three Flavoured Tamarind Sauce
Spicy Waterfall Salad of Char Grilled Beef w Lime & Toasted Rice
Spicy Phrik King Curry of Pork & Green Peppercorns
After your class, dine on the creations you made with your fellow chefs during the class.
For more information on classes offered at the cooking school and availability, check their website here.
Visit Duration: 4 hours (Cooking Class)
Where: 20 Ninderry Road, Yandina
Hours: 9:30am (Day Class); 4:30pm (Evening Class), Everyday
Cost: From AUD$150 – AUD$165
---
22. Sunshine Coast Hinterland – Mapleton, Maleny and Montville
The Sunshine Coast is well known for its beautiful beaches, but just a short drive inland will take you to the scenic Sunshine Coast Hinterland which offers nature, amazing hiking trails, attractions, animal encounters, art, food, shopping and more.
A popular day trip is to the cute mountain villages of Mapleton, Maleny and Montville, which are dotted along the Blackall Range.
Mapleton offers sweeping views from Noosa and down past Bribie Island, and if you are feeling a little more adventurous, take a walk to the impressive Mapleton Falls.
The next town along is Montville which is well known for its art galleries, gift shops, boutique shopping, and cafés hidden amongst European-inspired architecture.
Maleny is also an artsy town filled with galleries, studios, and workshops. It is also known for its thriving dairy industry, boutique food producers and some of the best coffee the Sunshine Coast has to offer.
Other Sunshine Coast Hinterland tourist attractions include Kondalilla Falls, Mary Cairncross Scenic Reserve, Maleny Botanic Gardens & Bird World, and Maleny Dairies.
Visit Duration: 1 day
Where: Blackall Range Tourist Drive
Hours: All Day, Everyday
Cost: Free
---
23. Tewantin National Park
Within Tewantin National Park, there is a lookout tower 265 metres high at the top of Mount Tinbeerwah. This peak, forged by volcanic activity tens of millions of years ago, offers amazing 360 degree views of the Noosa coast and river system.
As the car park is near the summit, the 1.3 kilometre hike is short and easy.
Visit Duration: approx. 90 minutes
Where: Tinbeerwah Road, Tinbeerwah
Hours: All Day, Everyday
Cost: Free
Tip: A perfect time to go is late afternoon to check out the beautiful sunsets.
---
24. The Ginger Factory, Yandina
A visit to the iconic Ginger Factory (the largest ginger factory in the world) is a great way to spend a morning or an afternoon and offers a number of attractions including:
A tour of the Ginger Factory where you will learn about growing, harvesting and processing ginger products
Take a tour of the gardens by a century old sugar cane train
Take an Overboard Boat Ride and drift through different countries of the world, following the story of the Gingerbread Man who is trying to escape the clutches of two hungry chefs. Features more than 200 handmade animated puppets
Live beekeeping demonstrations
The souvenir shop selling hundreds of Buderim Ginger products including ginger sauces, ginger beers, ginger cordial, and ginger sweets.
Visit Duration: 2 to 4 hours
Where: 50 Pioneer Road, Yandina
Hours: 9:00am – 5:00pm, Everyday
Cost: Free Admission (Tours and Attractions Cost Extra – see costs here)
---
25. Visit a Winery
Walk through the vines and visit the cellar doors of boutique wineries and vineyards dotted throughout the Sunshine Coast hinterland. This area is said to offer one of the most diverse and fastest growing wine regions in Queensland. Some of the wineries open to the public include:
Visit Duration: 1 day
Where: Various Location in the Hinterland
Hours: Check Individual Websites for Opening Hours
---
26. Whale Watching
Every year between late May and early November, whales begin their epic migration from the cold waters of Antarctica to the warm South Pacific, with a stop in Queensland's waters along the way to have their young.
Whale watching tours can be expensive, but you can see them for free at various locations along the Sunshine Coast. To increase your chances of a sighting, go out late in the morning or early afternoon, as the water isn't too glary, making it easier to spot the tell-tale 'blow' from the whales. Early mornings are also a good time for whale watching as the 'blow' is often highlighted by the back light of the morning sun.
Lookouts and headlands are the perfect places to catch a glimpse of these magnificent creatures, so head to one of these locations:
Moffat Beach Headland, Caloundra
Shelley Beach, Caloundra
Point Arkwright, Coolum
Point Perry, Coolum
Dolphin Point, Noosa Heads
Point Cartwright, Kawana
Visit Duration: As Long As It Takes…
Where: See Locations Listed Above
Hours: Early Morning, Late in the Morning, Early Afternoon; Everyday
Cost: Free
---
In Summary: 26 Things To Do on the Sunshine Coast, Australia
True to its name, the Sunshine Coast enjoys sunny, subtropical weather year round and the endless list of things to do make it one of Queensland's most popular tourist destinations.
The Sunshine Coast is the ideal place for outdoor lovers who enjoy hiking, beach days, surfing, snorkelling, scuba diving, swimming in waterfalls, and shopping.
Have you visited the Sunshine Coast? Are you planning a trip and looking for things to do on the Sunshine Coast? Post your tips and questions below.
---
TRIP PLANNERS FOR AUSTRALIA: RELATED BLOG POSTS
Want more info to help you plan your Australia trip? Check out all the articles we've written on travel in Australia below and continue planning your trip.
---